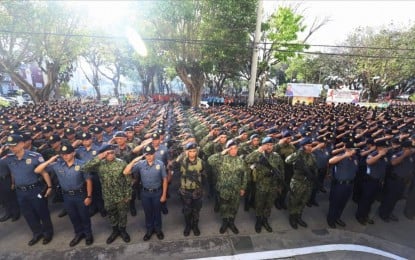 ILOILO CITY – The Philippine National Police (PNP) will be imposing a modified signal jamming during major events of the Iloilo Dinagyang Festival instead of implementing a total shutdown in the entire city as part of its security preparations.
"We have submitted our request for the signal shutdown in Iloilo City but it is a modified scheme. It will not affect the whole city but it is only in areas where there are major events," said Iloilo City Police Office (ICPO) Operations and Management Unit chief Lt. Col. Rene Obregon Jr., in a press conference on Tuesday.
Specifically, it will cover the areas at Plaza Libertad, Freedom Grandstand, Plazoleta Gay, provincial capitol, Delgado and Quezon-Ledesma streets, and at the central market and University of Iloilo – PHINMA from 6 a.m. until 2 p.m. on Jan. 21 and 22.
These areas will be the venues of various events such as the Kasadyahan sa Kabanwahanan and Grand Religious Sadsad on Jan. 21, and Dagyang sa Barangay Tribes Competition on Jan. 22, and food festival, among others.
There will also be signal jamming at the Mandurriao district from 6 p.m. until 9 p.m. on Jan. 21 for the ILOmination tribes competition and floats parade of lights.
In addition to signal jam, the enforcement of gun ban will take effect from Jan. 13 until Jan. 23, when only uniformed personnel will be allowed to carry firearms.
"We are almost all set with our safety plans and starting Friday (Jan. 13) we will already establish our border control where we will conduct checkpoint operations outside and in between municipalities of Oton, Pavia and Leganes," he said.
The security preparation for the festival will be manned by more or less 6,000 personnel of the PNP, Philippine Army, Bureau of Jail Management and Penology, Bureau of Fire Protection, Public Safety and Transportation Management Office and Reserved Officers Training Corps of colleges and universities in Iloilo.
Obregon said the regional headquarters will be sending over 2,000 personnel; some are currently deployed in Kalibo, Aklan for the Ati-atihan Festival.
The entire force will be properly accounted for by next week during the send-off ceremony where the PNP will display its other resources and other logistical capabilities for security purposes.
He added that from 2016 to 2020, major incidents have been decreasing during the festival and they aimed to achieve zero major incidents this year.
"We are asking the support of everyone who will attend the Dinagyang Festival 2023. Let us keep away from doing prank activities to create chaos to prevent stampede," the operations officer said. (PNA)