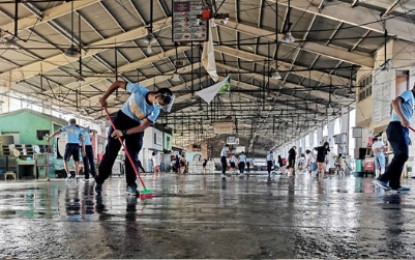 MANILA – As the Department of Agriculture (DA) banks on steady fish supply for Metro Manila at this time of the Covid-19 pandemic, the Philippine Fish Development Authority (PFDA) also guaranteed that its ports are clean and disinfected.
The PFDA continues to conduct "intensive disinfection activities" to bolster its fight against the spread of the virus, the agency said in a statement on Monday.
The PFDA in Navotas Fish Port Complex (PFDA-NFPC) conducted its monthly general cleaning on Saturday to assure the safety even of those near its vicinity.
"As the government put the National Capital Region under a less strict modified enhanced community quarantine on April 12, PFDA will continue to fully operate with limited workforce onsite and carry out unhampered services and operations for its stakeholders under work-from-home set up to assure the safety of its employees, clients, and the public," the PFDA stated.
Aside from the PFDA-NFPC management, volunteers from various market traders' associations, and groups also joined the cleaning operations.
During the disinfection, some market operations were temporarily halted, particularly night trading, but management guaranteed that prices and supplies will not be affected by the closure.
With the African swine fever outbreak still being managed, the DA is encouraging consumption of protein alternatives, such as fish.
Undersecretary for Agri-fisheries and Operations Cheryl Caballero leads the livelihood transformation of DA that seeks to convert pigpens into aquaculture sites.
She said in a previous interview that eating fish is a healthier option.
"If we continue to add more produce, we bring down retail price and it will be affordable for everyone," she added. (PNA)