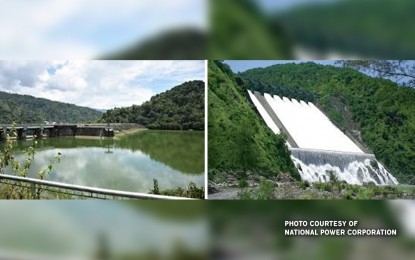 MANILA – Spilling operations have lessened in Ambuklao and Binga dams in northern Luzon's Benguet province but may still continue on Tuesday (Aug. 17).
Expected rain from either thunderstorms or the low-pressure area (LPA) over northern Luzon may keep both dams spilling, noted Philippine Atmospheric, Geophysical and Astronomical Services Administration (PAGASA) hydrologist Rosalie Pagulayan on Monday.
"We're not yet discounting such possibility," she said.
The expected rain may cause water in Ambuklao and Binga dams to remain dangerously near normal high levels so there is possibility for continuation of spilling operations to release excess water and ensure these structures remain safe.
For the 24-hour period ending 8 a.m. Tuesday, PAGASA forecast up to 10 millimeters of rainfall over the sub-basin where Ambuklao and Binga dams are.
Such forecast is higher than the 5 millimeters of rainfall PAGASA recorded in the area during the 24-hour period ending 8 a.m. Monday (Aug. 16).
PAGASA also reported 6 a.m. water level of Ambuklao and Binga dams on Monday at 751.28 meters and 574.28 meters, respectively -- just less than a meter below the corresponding 752 meters and 575 meters normal highs there.
Spilling operations were in progress in both dams but were already lessened by 8 a.m. Monday due to easing rainfall, noted Pagulayan.
"Water level in Ambuklao and Binga dams are still high, however," she said.
According to PAGASA, the LPA was located 55 km northwest of Benguet's Baguio City as of 3 a.m. Monday.
The LPA may bring cloudy skies with scattered rain showers and thunderstorms over northern Luzon's Ilocos Norte, Apayao and, Batanes provinces as well as Babuyan Islands.
Some of the expected thunderstorms can be severe enough to trigger either flash floods or landslides.
PAGASA weather forecaster Ana Clauren said there is low chance for the LPA to develop into a tropical cyclone and may already dissipate within 24 to 48 hours.
Such dissipation will pave the way for improving weather in northern Luzon this week, she added. (PNA)