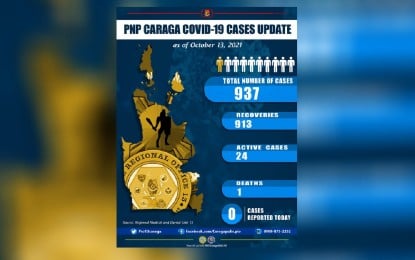 BUTUAN CITY – At least 913 personnel of the Police Regional Office in Caraga (PRO-13) have recovered from coronavirus disease 2019 (Covid-19) infection.
Since the pandemic was declared in March last year, a total of 937 police personnel in the region have been infected with the virus.
As of Wednesday, the PRO-13 has 23 active Covid-19 cases among its personnel, and one succumbing to the virus.
PRO-13 said no new Covid-19 infections were reported among its personnel as of Wednesday.
"PRO-13 continues to adhere to health protocols and quarantines to prevent the spread of the virus among its personnel," Maj. Dorothy Tumulak, the Public Information Officer of PRO-13, told Philippine News Agency in an interview Wednesday afternoon.
The "no vaccination, no entry" is still in effect at the compound of PRO-13 headquarters, she added.
"PRO-13 continues to encourage all its personnel to have themselves vaccinated. They can coordinate with the local government units to avail of the free vaccination of the government," Tumulak said.
She added that 79 percent, or 5,753 PRO-13 personnel, have been fully vaccinated while 1,492 have received their first dose of Covid-19 vaccines. (PNA)