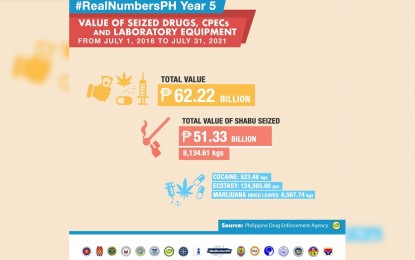 MANILA – The "unprecedented" massive reduction in the supply of illegal drugs is a result of aggressive anti-narcotics operations since 2016, Philippine National Police (PNP) chief Gen. Guillermo Eleazar on Monday vowed to sustain the gains in the campaign against illegal drugs.
Eleazar said the force would continue to work with the Philippine Drug Enforcement Agency (PDEA) even in the midst of a pandemic.
"Our war on drugs has been relentless since it began in 2016 and we have seen an unprecedented massive reduction in the supply of illegal drugs. The Philippine Drug Enforcement Agency, the PNP and other law enforcement units have not let up in sustaining gains we have been achieving towards the goal of eradicating the narcotics trade in the country," Eleazar said in a statement.
The latest drug war statistics released by PDEA showed that from July 1, 2016 to July 31 this year, more than PHP62.22 billion worth of illegal drugs and equipment were seized, including 8,134.61 kilograms of shabu worth PHP51.33 billion.
For five years, the operations resulted in the arrest of 303,154 individuals, including 12,849 high-value targets.
Data also showed that a total of 6,181 drug suspects were killed during operations.
In the last five years, there are a total of 22,585 barangays that have been cleared of illegal drugs influence.
For a barangay to be declared as free from illegal drug activities, the Inter-Agency Committee on Anti-Illegal Drugs must validate the non-availability of drug supply, the absence of drug transit activity, clandestine drug laboratory and chemical warehouse, marijuana cultivation site, drug den, drug pushers and users in the area.
The government's campaign against illegal drugs is coupled with a comprehensive platform of information on the harm reduction initiatives of the barangay drug clearing program like the community-based drug rehabilitation program and Balay Silangan, both drug intervention programs for surrendering drug users and pushers to help them reintegrate in the society and become productive citizens. (PNA)