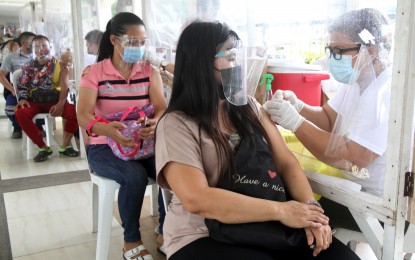 MANILA – Quezon City has already vaccinated 1,539,611, or 90.57 percent of its target residents, with at least the first dose of the coronavirus disease 2019 (Covid-19) vaccine as of 8 a.m. on Tuesday.
The city is eyeing to inoculate 1.7 million to achieve population protection.
The QC government posted on Facebook that it is thankful for the achievement despite limited supply of vaccines.
"Malaking bagay ito lalo na ngayong may Delta variant (This is very important especially now that there is Delta variant)," the local government's post read.
The city has administered 2,227,734 doses so far, with 688,123 or 42.84 percent of the total, as second doses.
Vaccinees must register with the QC Vax Easy portal (https://qceservices.quezoncity.gov.ph/qcvaxeasy) to secure a schedule, which uses the first in, first out system.
This means, those on top of the registration list will be given the next available schedule, depending on the supply of vaccines.
The city is also urging its residents to visit the official Facebook page or qcprotektodo.ph for details of the vaccination program. (PNA)