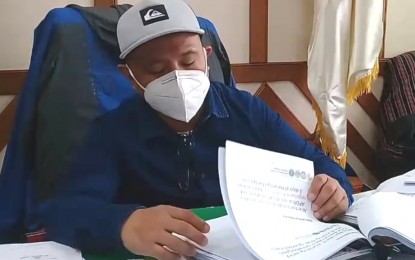 BAGUIO CITY – The provincial government of Benguet is looking at the possibility of requesting the national government to place it under enhanced community quarantine (ECQ) to curb the continued surge in coronavirus disease 2019 (Covid-19) infections.
Governor Melchor Diclas, in a briefing after the meeting of the provincial Inter-Agency Task Force (PIATF) on Tuesday, said this is the last resort to address the worsening Covid-19 situation in the province.
As of Monday, Benguet, which is currently under general community quarantine (GCQ), has 1,624 active Covid-19 infections after 164 new cases were recorded by the Department of Health (DOH)-Cordillera.
Diclas said stricter measures have been in place, including a total liquor ban until Sept. 30, 50 percent maximum capacity in outdoor dining services, 30 percent capacity in salons and spas, 30 percent capacity in religious services, and a ban of any social events, reception for weddings, birthdays and other occasions.
The PIATF also barred indoor sports activities while tourism activities, both for locals and tourists, are also prohibited.
Diclas also announced that wakes due to non-Covid-19 deaths will also be limited to immediate family members subject to full compliance with minimum public health and safety standards.
For deaths due to Covid-19, the cremated remains will only be allowed to have a wake 14 days after the isolation of family members who were classified as close contacts of the deceased and singing will not be allowed.
Diclas said a post mortem swab test will also be required for deaths before family members can hold wakes for them, in compliance with rules on handling Covid-19 fatalities.
All workplaces are also encouraged to come up with alternative work arrangements, including the local government units in the province to limit the movement of people.
"We are studying imposing a market schedule again as an added control measure," Diclas said.
He said border checkpoints are requiring a negative reverse transcription-polymerase chain reaction (RT-PCR) test result for non-residents' essential travels.
Local officials are also closely monitoring mass gatherings in villages, especially drinking sprees which have been identified as the cause of clustering of cases within the households and among families.
Diclas, a medical doctor by profession, urged residents to cooperate to prevent the province's healthcare system from being overwhelmed.
"Let us not wait for the health system to bog down just because we will have facilities to go to. Do not go out if you do not need to because we cannot say if the person we are meeting on the road is positive of Covid-19," he said.
Diclas said the Benguet General Hospital (BeGH) which is run by the provincial government is 100-percent full of Covid-19 patients and has set up a tent facility outside its premises to accommodate other patients.
"We have no more spaces. We are experiencing a shortage of oxygen. Help us by helping yourselves," he said. (PNA)