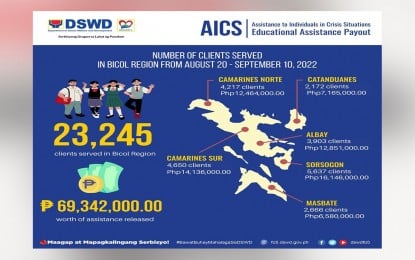 LEGAZPI CITY – A total of 23,245 students in the Bicol region have received educational cash assistance from the Department of Social Welfare and Development (DSWD) from Aug. 20 to Sept. 10.
In an advisory on Monday, the agency said it distributed some PHP69.3 million worth of cash aid under the agency's Assistance for Individuals in Crisis Situation (AICS) program in four payout activities.
During the first payout on Aug. 20, some 3,296 students received a total of PHP9.6-million financial assistance; on Aug. 27, at least 5,871 students received PHP18.2 million; on Sept. 3, some 6,508 students were given a total of PHP19.6 million; while on Sept. 10, some 7,389 students received a total of PHP21 million cash assistance.
Each pupil in the elementary level received PHP1,000; those in junior high school, PHP2,000; those in senior high school, PHP3,000; and PHP4,000 for those in college/vocational school.
Marygizelle Mesa, DSWD-5 information officer, said in a message that the latest payout (Sept. 10) was more manageable, systematic, and organized.
"It was much better than previous payouts, because of the help of different local government units," Mesa said.
She said some local government units provided snacks, laptops, additional manpower, and venues.
Mesa also said that walk-in and email applications for educational assistance are still suspended to give way for a review of all the names on the list so that possible duplications could be removed. (PNA)