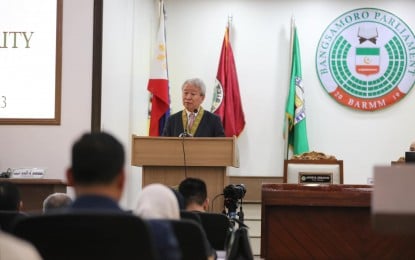 MANILA – The Japan International Cooperation Agency (JICA) reaffirmed its support to the peace and development process in the Bangsamoro Autonomous Region in Muslim Mindanao.
In a media forum on Thursday, JICA President Akihiko Tanaka said the peace and development process in Mindanao would be essential to the prosperity of the Philippines, noting that their agency has been supporting it for decades.
"The Philippine government under the leadership of President [Ferdinand Jr.] Marcos has shown a strong commitment to observe the process of transition," he said. "I was very happy to hear from Chief Ebrahim the Bangsamoro Development Plan was deliberated in the parliament yesterday afternoon and was successfully passed."
On Wednesday, Tanaka met with the members of the Bangsamoro Transition Authority (BTA) Parliament including Chief Minister Ahod Ebrahim, Senior Minister Abdulraof Macacua and Deputy Speaker BTA Parliament Omar Yasser Sema.
JICA lauded the BTA's effort to build "constructive relationship" with the national government and local government units.
It also recognized the efforts of the BTA to build a foundation for good governance, including the drafting of the Electoral Code, Local Government Code and Revenue Code.
"I believe the transitional process is, from my humble view, is on track and I'm quite hopeful the Bangsamoro Region will have a successful election in 2025," Tanaka said.
During his first term as JICA president from 2012 to 2015, Tanaka attended the signing of the Comprehensive Agreement on the Bangsamoro at Malacañang Palace in 2014.
When asked about JICA's projects other than promoting peace, Tanaka said they are planning to extend an invitation to the BTA Parliament members for a study visit in Japan.
"We hope that sharing Japan's experiences will be of great help to the BTA Parliament to build a democratic system in the region," he said.
Tanaka disclosed that JICA's staff are preparing for Marcos' visit but the exact date is yet to be announced.
"We might present him a list of potential collaborative efforts between the Philippines and Japan for that JICA staff is now working very hard, but the details of what we can consult with the Philippine government, we cannot reveal at this moment," he said.
JICA is the executing agency of Japanese Official Development Assistance which handles technical cooperation, loans and investment and grant aid, as well as cooperation volunteers and disaster relief programs.
It is the world's largest bilateral aid agency with its scale of operations amounting to about USD16.69 billion for fiscal year 2020 and a worldwide network of almost 100 overseas offices including the Philippines. (PNA)