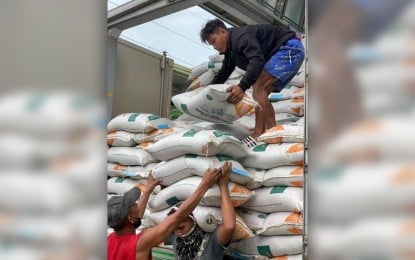 BUTUAN CITY – The Philippine Rice Research Institute (PhilRice) based in Agusan del Norte (PhilRice-Agusan) has intensified its distribution of certified inbred rice seeds to farmers in the Caraga region in time for the October-November planting season.
In a phone interview on Friday, PhilRice-Agusan rice competitiveness enhancement fund (RCEF) coordinator Jasmin Reyes said a total of 2,000 certified inbred rice seeds, composed of RC 216 and RC 440, have been allotted to Carmen, Surigao del Sur, where the yearend planting season is about to start.
On Thursday, the PhilRice-Agusan office sent an initial 1,400 bags of certified inbred rice seeds to Carmen that will benefit about 809 rice farmers in the town.
She added that the remaining 600 bags of rice seeds for the town is set to be delivered when the actual distribution by the local government unit officially begins.
"The initial 1,400 bags are already stationed in Carmen. The LGU will take charge of the distribution of the free rice seeds to qualified rice farmers" Reyes said.
The distribution is in line with the RCEF being implemented by the Department of Agriculture.
Reyes pointed out that the certified inbred rice seeds are proven high-yielding seeds and resistant to rice pests and diseases.
Qualified rice farmers who can avail of the free rice seeds are those registered under the Registry System for Basic Sectors in Agriculture (RSBSA).
"Each of the farmer-beneficiaries can avail of two bags of free certified inbred rice seeds for every one hectare of rice farm," Reyes said.
Buenavista farmers
Meanwhile, a separate 320 bags of certified inbred rice seeds composed of RC 216, RC 442, and RC 160 have also been distributed to 136 rice farmers in Buenavista, Agusan del Norte.
In a separate interview on Friday afternoon, Cyril Udtojan, the RCEF-Agusan del Norte provincial coordinator, said the 320 bags of rice seeds were delivered to Buenavista town on Monday and were distributed to the RSBSA registered rice farmers on Thursday.
"Most of the beneficiaries in Buenavista are rice farmers with half a hectare to one-hectare rice farms. They received one to two bags of certified rice seeds on Thursday," Udtojan said.
He added that about 1,000 bags of certified rice seeds are scheduled to be delivered to Buenavista in the second week of November that would benefit more rice farmers in the area. (PNA)