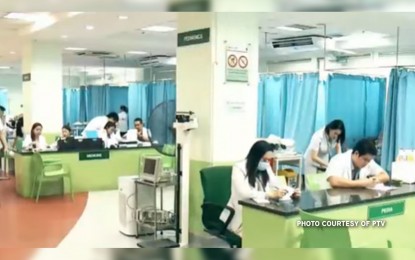 MANILA – A lawmaker at the House of Representatives is seeking a congressional inquiry into the reported delay in the release of allowances and other benefits of medical workers at the frontlines of the country's battle against coronavirus disease (Covid-19).
Manila 1st District Rep. Manuel Luis Lopez filed on April 12 House Resolution No. 1704 which calls for an investigation, in aid of legislation, on the compliance of public and private entities to provide health workers with all the benefits as mandated by law.
The resolution also urges the chamber to look into the effectiveness of measures instituted by various agencies to address the health pandemic, including preparedness on vaccine administration.
"The complaints from our essential workers should not fall on deaf ears, but rather, should compel us to review and reformulate the country's Covid-19 response for the safety and welfare of our citizens and the nation as a whole," Lopez said.
He cited recent reports and complaints revealing that health workers and other essential workers are demanding for their long-overdue and much-deserved benefits and allowances such as special risk, meals, transportation, and accommodation allowances, and performance-based bonuses.
He noted that some health workers were also reportedly being charged for their RT-PCR tests, while others were not given pandemic or quarantine leave apart from their vacation or sick leaves, nor pay for those under a job order status.
"Undue delay in the provision of benefits and allowances to our essential workers who continue to work tirelessly and valiantly for the country is absolutely reprehensible," he added.
He cited several laws and administrative orders that have been issued to provide benefits for health workers such as Republic Act (RA) No. 11469 of the Bayanihan to Heal as One act and RA 11494 or the Bayanihan to Recover as One Act.
Under the said laws, the government should shoulder all medical expenses of public and private health workers in case of exposure to Covid-19; provide compensation to them or their families in case they die; provide a special Covid-19 risk allowance; provide testing every 15 days as well as personal protective equipment; and provide life insurance, accommodation, transportation, and meals to them.
"With the alarming surge in Covid-19 cases, all of our essential workers, both medical and non-medical, face greater risk to contracting the Covid-19 virus in the line of duty. Our front-liners need government action now, and it is at this juncture that we call for an immediate investigation into their pleas and complaints," Lopez said.
The resolution urges the appropriate House committee to review the possibility of granting active hazard duty pay to all healthcare workers, regardless if their duties and responsibilities are directly related to the healthcare response of the government to Covid-19.
Lopez said the investigation should be conducted with the end in view of urgently adjusting current national policies, programs, and plans in response to the Covid-19 pandemic to stop the surge in its track; establish a national and comprehensive Covid-19 containment plan, which includes a nationally coordinated but locally implemented mass testing and contact tracing; and administer Covid-19 vaccines to at least 75 percent of the total population of the country as soon as possible to end the public health emergency.
"Our front-liners are risking their lives every day. The least we can do is to listen to them and give what they rightfully deserve," he said. (PNA)