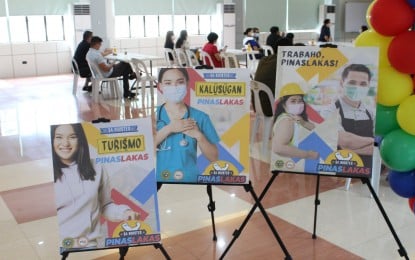 ALAMINOS CITY, Pangasinan – The Department of Health - Center for Health Development (DOH-CHD) 1 (Ilocos) is set to hire more than 500 nurses to further boost the vaccination drive in the region.
In a program on Thursday, DOH-CHD-1 Director Dr. Paula Paz Sydiongco said the 250 nurses would be deployed to Pangasinan and the rest to Ilocos Sur, Ilocos Norte, and La Union.
"Ito ay tulong mula sa DOH (This is a support from the DOH)," Sydiongco said, adding that the department has allotted PHP111 million to the region for hiring new nurses.
The nurses will be under a contract of service.
It can be recalled that the DOH-CHD-1 has deployed more vaccinators to Pangasinan and La Union to boost the inoculation campaign in the region.
Glen Ramos, DOH-CHD-1 media relations officer, earlier said all the job order nurses in the regional office were already sent out to the communities as augmentation.
"The LGUs (local government units) got their volunteer vaccinators as per the need(s) of the community," Ramos said in a phone interview on Thursday.
He said the LGUs, through their health personnel, are continuously steering their vaccination schedules and pursuing all avenues to make available to the public the needed booster shots.
The DOH-CHD-1 targets a vaccination rate of 90 percent for senior citizens to complete the first and second doses and aims to provide booster shots to 50 percent of the 12 years old and above target population, for the first 100 days of President Ferdinand Marcos Jr. on October 8.
Launched on July 26, the "Pinaslakas" is a DOH initiative to strengthen the nationwide booster vaccination program after Marcos' directive to increase the number of Filipinos with coronavirus disease 2019 (Covid-19) booster shots to help maintain the country's wall of immunity.
As of September 1, about 3.8 million residents of the Ilocos region have completed their doses, while 1.1 million got their first booster shot, comprising 87.74 percent and 26.45 percent of the target populations, respectively.
About 445,781 senior citizens, or 83.97 percent of the target, have received their complete dose of the vaccine.
Meanwhile, the DOH-CHD-1 continues to urge residents to avail themselves of the booster shot for protection against Covid-19.
Sydiongco attributed the rising number of Covid-19 cases in the region to the decreased immunity of the residents and lack of booster shots.
"The vaccine's protection wane(s) after six months, that is why we need the booster shot to increase our immunity against the virus," she said.