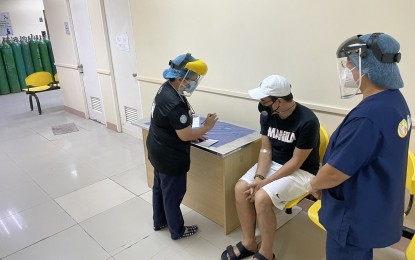 MANILA – Manila Mayor Francisco "Isko Moreno" Domagoso was admitted to the Sta. Ana Hospital on Sunday after he tested positive for the coronavirus disease (Covid-19).
On Monday, Sta. Ana Hospital Director Dr. Grace Padilla issued a medical bulletin on Domagoso's condition stating that he is stable, comfortable, and sleeping well.
"He has a mild Covid disease. Presently, he is maintained on oral antibiotics and vitamins as supplements," the medical bulletin read.
Padilla said Domagoso has mild colds, coughs, and body malaise as symptoms.
However, she said that he has no fever and that his chest CT Scan result is normal.
Domagoso has also undergone the usual laboratory tests.
"Likewise, our honorable Vice Mayor Honey Lacuna is on her way to recovery as she was admitted last week," Padilla said on the condition of Lacuna-Pangan who is also presently admitted in the hospital after she tested positive for Covid-19.
To recall, Lacuna-Pangan tested positive on Aug. 8 but Domagoso was negative at the time.
Meanwhile, despite his condition, Domagoso assured his constituents that the local government would continue its efforts in fighting the pandemic.
"Kapit lang. Tuloy ang buhay. Tuloy pa rin ang gobyerno sa Maynila. Umasa tayo, magtiwala tayo sa Diyos, makararaos din tayo (Let's hold on. Life continues. The governance of Manila continues. Let us hope and trust in God, we will get through this)," Domagoso said.
To date, other Metro Manila mayors who have contracted the disease include Quezon City Mayor Joy Belmonte who tested positive twice, San Juan City Mayor Francis Zamora, and Pasay City Mayor Emi Calixto-Rubiano. (PNA)