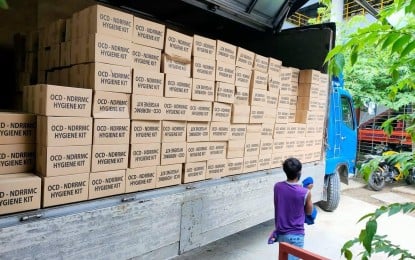 DUMAGUETE CITY – The provincial government of Negros Oriental, through its Local Disaster Risk Reduction and Management Division Operations Center (LDRRMD-OpCen), has received 808 boxes of hygiene kits from the Office of Civil Defense in Region 7 (OCD-7).
Provincial DRRM director Adrian Sedillo in an interview Friday said the donation arrived Thursday afternoon.
These hygiene kits can be used by individuals affected by the coronavirus disease 2019 (Covid-19) pandemic or even victims of other calamities and disasters, he said.
"These are multi-hazard hygiene kits and include toiletries, towels, feminine napkins, and other items for emergency use," he added.
Sedillo said they are awaiting instructions from Governor Roel Degamo as to the distribution of these hygiene kits, which shall be turned over in the meantime to the provincial social welfare office.
The governor and the province's Inter-Agency Management Task Force for the Management of Emerging Infectious Diseases (IATF-EID) have expressed their gratitude to the OCD-7 for the donation. (PNA)