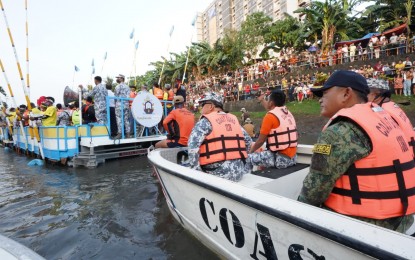 LEGAZPI CITY – The more than one-week Peñafrancia Festival celebration in Naga City, Camarines Sur was generally peaceful and successful, with the solemnity of the religious event preserved even if it was participated in by huge crowds of Marian devotees, the Police Regional Office in Bicol Region (PRO-5) said Monday.
Brig. Gen. Rudolph Dimas, PRO-5 director, said nearly half a million people joined and witnessed the main highlight of the event, which was the fluvial procession along Naga River, held on Saturday.
The other main events held were the Miss Bicolandia beauty pageant, Peñafrancia Traslacion Procession, Regional Scouts Parade and the Majorettes Corps Competition.
Dimas attributed the festival's success to the intensive security preparations conducted by police and military, in close coordination with stakeholders, force multipliers, local government units, advocacy groups and the community as a whole.
"Indeed, we are grateful for the support that our community and partners in the field of law enforcement had given us in making the feasts of Divino Rostro and the Our Lady of Peñafrancia a success. We cannot thank you enough but we vow to consistently do our part in making every Bicolano safe and secure in any walk of life," Dimas said in a statement.
During the Sept. 8-19 Peñafrancia festivities, some 2,234 law enforcement personnel were deployed across the region to ensure public safety, particularly during the recently concluded fluvial procession.
Gun ban restrictions are in place in Naga City from Sept. 5-25 to prevent crime incidents.
Maximum deployment of personnel has been undertaken to ensure the safety of the thousands of devotees who joined the activity.
Policemen were positioned in different points of the city, manning traffic and the motorist assistance center, and strengthening police presence which prevented criminals and lawless elements from taking advantage of the festivity.
Peñafrancia Festival, which is considered the biggest religious event in Bicol, is celebrated to honor the feast day of Our Lady of Peñafrancia, patroness of the region. (PNA)