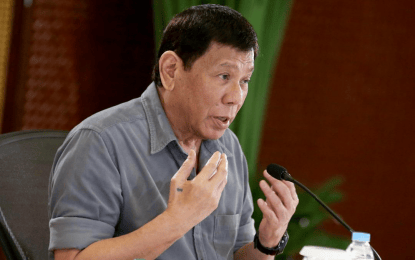 MANILA – President Rodrigo Duterte has maintained high approval and trust scores in the third quarter as the Philippine election season approaches, according to the third quarter survey by a political consultancy firm.
According to PUBLiCUS Asia Inc.'s Oct. 11 to 18 poll, Duterte registered an overall approval rating of 60 percent, an improvement from his 58 percent score in the survey conducted in the second quarter.
He also acquired a "high trust" rating of 53 percent, three points higher than his 50 percent score in the previous quarter.
Duterte's government also got a high approval for its handling of national issues like extending voter registration, conducting an audit on Red Cross, full opening of the economy by December, and allowing minors to get the Covid-19 vaccine, among others.
Duterte emerged as the most approved and trusted government official, the survey found.
He also registered the highest shares of all the traits measured. His top traits include brave, decisive, has love for the Philippines, has concern for Filipinos, responsible, pro-poor, upholds the law, and sincere, among others.
Vice President Robredo registered the highest disapproval rating of 40 percent while 31 percent said they approved of her performance.
Robredo also registered the highest "low trust" rating at 47 percent while 22 percent had "high trust" in her.
Senate President Vicente "Tito" Sotto III recorded an overall approval rating of 34 percent, while only 27 percent disapproved of Sotto's performance.
Sotto suffered a 3-percent decline in his total high trust rating of 20 percent for the third quarter's poll.
Robredo and Sotto's approval and trust rates dropped after declaring and filing their bids for presidency.
House Speaker Lord Allan Velasco registered a 24 percent approval rating and an 18 percent disapproval mark.
Only 12 percent said they had "high trust" in Velasco, while 36 percent said they had "low trust".
Chief Justice Alexander Gesmundo recorded a 24 percent approval rating and a 25 percent disapproval rating.
As for trust, 15 percent said they had "high trust" in Gesmundo while 30 percent said they had "low trust".
The pollster conducted an independent and non-commissioned survey comprised of 1500 respondents drawn from a market research panel of over 200,000 Filipinos. (PNA)