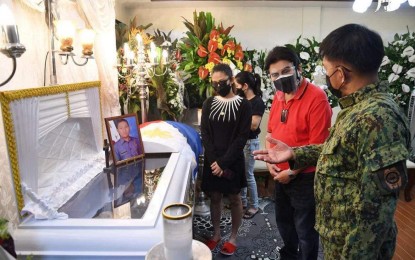 BACOLOD CITY – Mayor Evelio Leonardia has sought the assistance of Philippine National Police (PNP) chief Gen. Guillermo Eleazar for an intensified campaign against illegal drugs here.
The mayor's request came on the heels of the killing of anti-drug operative Staff Sgt. Joseph Nepomuceno, whom he lauded for "being an exemplary member of the Bacolod City Police Office (BCPO)" and cited for his "honesty, bravery and integrity" in the war on drugs.
"I asked him (Eleazar) to give special attention and go deeper in their investigation and help Bacolod in its campaign against drug trade," Leonardia said in a statement on Thursday night, hours after he visited the wake of Nepomuceno at the policeman's residence in Barangay 14.
Leonardia said he had a phone conversation with Eleazar, together with BCPO director, Col. Manuel Placido, on Wednesday night.
On Tuesday, the PNP chief released a video message, directing the BCPO and the Police Regional Office-Western Visayas (PRO-6) to probe the Nepomuceno slay case and arrest the perpetrators.
The PRO-6, headed by Brig. Gen. Rolando Miranda, has convened the Special Investigation Task Group Nepomuceno.
The 37-year-old policeman, a member of the City Drug Enforcement Unit, was gunned down by one of the two assailants on a motorcycle along Rosario Street, in the vicinity of Barangays 15 and 38.
Two days later, the headless body of drug personality Glenn Paul Castillo of Barangay Cabug, who was released on bail last week, was found on the same street, where the policeman was killed. Castillo's severed head was later found in the area of Barangay 2.
Meanwhile, Leonardia was joined by Placido in condoling with Nepomuceno's partner, Janet Frias. The couple has a three-year-old child.
"This is a very sad incident. I came here to express my heartfelt condolences to his family. It is sad for Bacolod because we lost a valuable asset in our fight against illegal drugs," he said.
The mayor noted that Nepomuceno is an exemplary performer based on the sentiments expressed by his peers, and was also highly regarded by his neighbors.
"I salute him for a job well done. The people of Bacolod are grateful for his service," he added. (PNA)