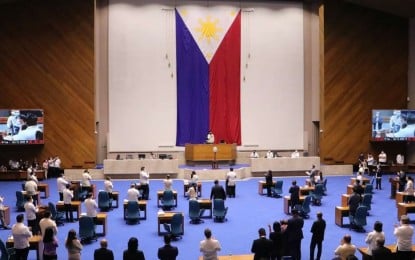 MANILA – Speaker Lord Allan Velasco said on Wednesday the House of Representatives has transmitted to the Senate its approved General Appropriations Bill (GAB) or the proposed PHP5.024-trillion national budget for 2022.
Velasco said the submission of the GAB to the upper chamber came two days ahead of the October 27 commitment of the House leadership, adding that the spending measure is on track to enactment before year-end.
"In line with our commitment to ensure the timely enactment of next year's national budget, we have transmitted to the Senate the 2022 GAB duly approved by the House ahead of schedule," Velasco said.
Velasco said the early transmittal would give senators reasonable time to scrutinize and pass their own version of the GAB.
"We look forward to the bicameral conference where we can thresh out and reconcile the differing provisions of the House and Senate versions," he said.
He expressed hope that the proposed budget for next year would help propel the Philippine economy to a "strong recovery starting 2022" as the country moves closer to full reopening.
He also stressed the need to enact the national budget before the start of the fiscal year on Jan. 1, 2022, arguing that the government cannot afford a reenacted budget, which is expected to dampen the country's recovery from the Covid-19 crisis.
"A reenacted budget will definitely ruin our efforts to build back better and deliver much-needed services for our kababayans (countrymen) amid the pandemic," he said.
The proposed 2022 General Appropriations Act is 11.5 percent higher than this year's PHP4.506 trillion.
The budget plan is guided by a strategy supported by three main pillars – Building Resilience amidst the Pandemic; Sustaining the Momentum towards Recovery; and Continuing the Legacy of Infrastructure Development. (PNA)