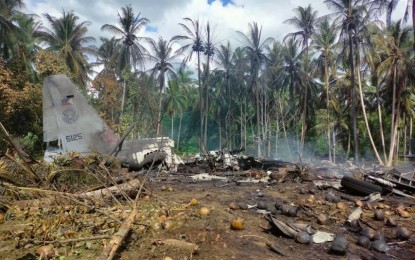 MANILA – The international community has expressed its condolences to the Filipinos for the death of 50 persons, mostly military personnel, in a C-130H plane crash Sunday in Patikul, Sulu.
In a statement, US National Security Advisor Jake Sullivan said the US government is ready to provide support to the government's response effort.
"Our thoughts are with those who were injured and the families of those who were lost. We stand shoulder to shoulder with our Philippine allies at this difficult time and are ready to provide all appropriate support to the Philippines' response effort," the statement read.
US Secretary of Defense Lloyd Austin III also offered his sincere condolences to the Philippine government and the families of those who died in the crash. "We will continue to provide @dndphl [Department of National Defense Philippines] support and assistance in response to this tragedy," he said in a statement.
In a statement posted on its official Twitter account, the Russian Embassy in the Philippines said "we are deeply saddened" by the ill-fated plane crash.
"The Russian Embassy expresses its sincere condolences to the families of victims and wishes the soonest recovery to the injured," it said.
The European Union, Australian Ambassador Steven Robinson, French Ambassador Michele Boccoz and Canadian Ambassador Peter MacArthur also sent their condolences to the Filipinos.
Through their respective Twitter accounts, the envoys sent their messages of mourning.
"Our heartfelt condolences to the Armed Forces of the Philippines and families of personnel involved in the tragic accident," Robinson said.
"Our condolences indeed. This is such a brutal and unexpected accident. All our thoughts go to the families and loved ones," Boccoz said.
"Condolences expressed to the families of Armed Forces of the Philippines members as well as civilians tragically killed in this military aircraft accident. Wishing full recovery to the injured," MacArthur said.
The plane that crashed was one of the two C-130H acquired through a grant from the US government that arrived in the country last Jan. 29.
The death toll from the crash on Sunday has climbed to 50 -- 47 are military personnel while the three others are civilians.
All passengers, pilots and crew have been retrieved. Meantime, the search for the C-130's black box is ongoing.
Some 49 military personnel and four civilians are undergoing treatment for injuries sustained in the crash. (PNA)