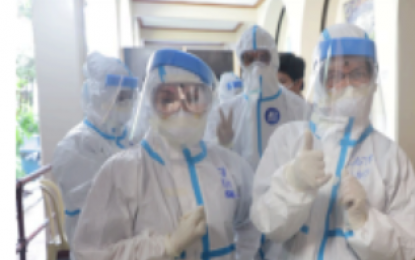 MANILA – The National Task Force against Covid-19 (NTF) on Monday paid tribute to individuals who are at the forefront of the country's pandemic response and the peace advocates' relentless contribution in the pursuit of long-lasting peace during the observance of the National Heroes Day.
In his message, Presidential Adviser on Peace Process and NTF chief implementer Secretary Carlito Galvez Jr. recognized the front-liners who have emerged as the "new breed of heroes" at the onslaught of the global health crisis.
Galvez hailed the heroism of medical and non-medical front-liners who risk their lives and bravely performed their duties amid the pandemic such as the doctors, nurses, soldiers, police officers, local government and barangay workers, riders, fast food service crew, other private sectors, and civil servants.
"They are the men and women who have risked life and limb every day to serve and protect our countrymen from the deadly virus," he said in a statement.
Galvez also recognized the relentless efforts and contributions of peace advocates in pursuing long-lasting peace in the Philippines.
"We also have our peace advocates and peacebuilders who, amidst the threats of the health crisis, continue to push forward the comprehensive Philippine peace process by promoting solidarity, mutual understanding, and reconciliation among Filipinos," he said, adding that "everyone can be heroes even on own little ways".
"Let us honor these courageous, dedicated, and hardworking men and women who are at the forefront of our nation's fight against the deadly virus, and are helping to build a culture of peace throughout the country," he said.
National Heroes Day and Bonifacio Day both used to be celebrated every November 30. But in 1952, then President Elpidio Quirino separated the two holidays and restored National Heroes Day to the last Sunday of August.
National Heroes Day is among the country's regular holidays defined under Proclamation no. 845. (PNA)