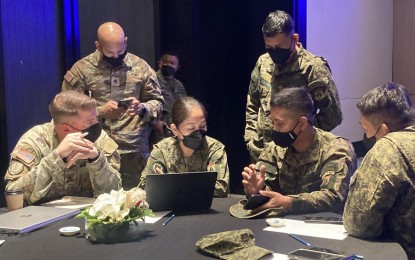 MANILA – The "Salaknib" exercises for next year between the Philippine Army (PA) and US Army Pacific (USARPAC) troops will take place in two phases in various sites in Central and Northern Luzon.
In a statement Friday, PA spokesperson, Col. Xerxes Trinidad, said the two armies are expected to field more participants to train in a series of exercises.
The number of participating Philippine and US units as well as the exercise area will be announced later while the planning for the 2023 iteration of "Salaknib" has been ongoing this week.
"Planners commenced the week-long planning conference for the 2023 iteration of 'Salaknib'—an annual combined exercise geared at strengthening interoperability of both armies in a spectrum of military operations—at the Hotel Conrad, Pasay City on September 5, 2022," Trinidad said.
The annual exercise also enhances the individual skills of troops and unit capabilities in a range of military operations which is in line with the command guidance of Army chief, Lt. Gen. Romeo S. Brawner Jr.
"Salaknib" which means shield in Ilocano, is geared at enhancing the defense readiness of Filipino and American troops by strengthening tactical interoperability.
Around 2,200 Filipino and US Army troops trained in Central Luzon during the first quarter of this year, focusing on capability development of the 1st Brigade Combat Team, the PA's primary combined arms and rapid deployment unit.
The 20-day exercise started on March 5 this year. (PNA)