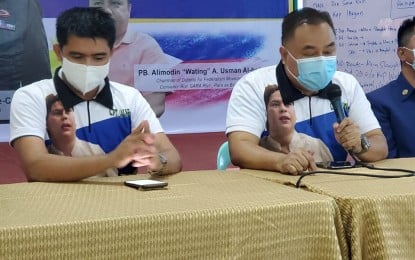 DAVAO CITY – The local convenors of the "Run, Sara, Run" here will hold a grand caravan in Pasay City from Nov. 13 to 15 to continue urging Mayor Sara Z. Duterte to run for president in the 2022 polls.
In a press briefing Tuesday, Barangay Cabantian chairperson Mark Galvez, one of the campaign organizers, said they will leave the city on Nov. 9 and convene at the Sofitel Philippine Plaza Manila in Pasay City until Nov. 15, the deadline for the substitution of candidates.
"All members of Mayor Sara parallel-group all over the country will show support to her as we are hopeful that she will arrive in Sofitel and file for the presidency. We will wait for her," he said.
Galvez and Barangay 23-C chairman Alimoden Usman, the campaign convenor, is optimistic that Duterte will heed their call, especially after the lady mayor recently met with presidential aspirants Ferdinand Marcos Jr. and Ronald dela Rosa.
Galvez assured authorities that health protocols set by the Inter-Agency Task Force (IATF) will be observed during their event.
Apart from the big event next month, he also disclosed that a city-wide caravan will also take place in this city on Oct. 28.
During the caravan, barangay leaders and members of the private sector from the city's three districts will convene at Crocodile Park through a motorcade that will traverse major thoroughfares of this city, Galvez added.
"This event will soften the heart of Mayor Inday. This is the final moment and we will do our best effort to convince her," he added.
Galvez said they hope to encourage the public to help them convince Duterte to take on the challenge.
The convenors asked supporters participating in the caravan to tie green ribbons or wear green T-shirts during the event.
"We did not rest, we continued persuading her. Other leaders from various regions signified to join our caravan," Usman said.
"We are solid Davao, we unite and dream to end criminality and insurgency in Mindanao. President Rodrigo Duterte started it already and we want Mayor Sara to continue the programs of her father," he added.
Usman said they will do their best to convince the mayor, adding: "If she will not do it, the Sara All Philippines 2022 will be divided. I am begging you Ma'am, please run for the people and our country." (PNA)