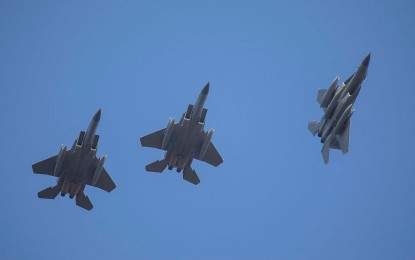 MANILA – The Philippine Air Force (PAF) earned praises from Malacañang on Saturday for joining the biennial "Pitch Black" multi-national air drills hosted by the Royal Australian Air Force.
In a Facebook post, Press Secretary Trixie Cruz-Angeles said the PAF's participation in "Exercise Pitch Black 2022" (PBK22) demonstrates the country's improved air defense capabilities.
"The Philippine Air Force joins in the exercise to show the country's improving air assets and forces in terms of deployment, offensive counter operations, and air interdiction," Cruz-Angeles said.
She said the biennial exercise would further enhance the interoperability of the PAF and other air forces from participating countries.
In the next Pitch Black exercise in 2024, the PAF is eyeing the deployment of its FA-50PH light jet fighters, she said.
"Target ng ating air force na ipadala ang ating FA-50 Light Combat Aircraft na mismong ginagamit sa mga operasyon tulad ng air defense, attack at iba pang support mission (Our air force is targeting to deploy the FA-50 Light Combat Aircraft used for air defense, attack, and other support missions)," Cruz-Angeles said.
PAF officers with background in air battle management and planning are currently in Darwin, Australia for the PBK22, which commenced on August 19 and will run until September 8.
The deployed personnel are from the PAF's 580th Aircraft Control and Warning Wing of the Air Defense Command (ADC).
Lt. Gen. Connor Anthony Canlas Sr., PAF commanding general, and Maj. Gen. Augustine Malinit, commander of the ADC, lead the Philippine delegation.
A total of 100 aircraft and approximately 2,500 personnel from 15 countries are taking part in the exercise -- Australia, Canada, France, Germany, Indonesia, India, Japan, Malaysia, Netherlands, New Zealand, Philippines, Republic of Korea, Singapore, Thailand, United Arab Emirates, United States, and United Kingdom; and Germany, Japan, and South Korea which will be participating fully for the first time.
"The Royal Australian Air Force is committed to strengthening relationships with partner Air Forces, enhancing international exercise participation, and increasing international support for ADF (Australian Defence Force) air activities," the host posted on Facebook.
Deemed as the most significant tactical air activity conducted in the region, "Exercise Pitch Black" focuses on large force employment and covers the complex management of air operations.
Participating air forces seek to enhance their capabilities in Air Campaign Planning and Air Battle Management.
In July, President Ferdinand Marcos Jr. guaranteed his administration's resolve to make the PAF "stronger, bigger, and effective" under his watch. (PNA)