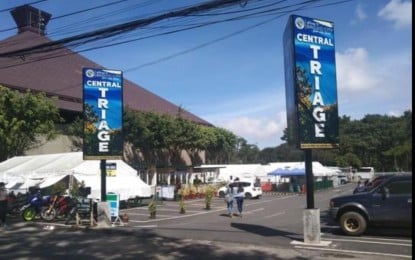 BAGUIO CITY – The city government reduced the operating time of its triage and testing facilities and is looking at closing the central isolation facility at the former Sto. Nino hospital.
"The central triage and at the Baguio Convention Center will operate from 8 a.m. to 5 p.m. from the previous 24 hours of operation and 8 a.m to 4 p.m. for antigen testing," city health officer Dr. Rowena Galpo said in a phone interview on Tuesday.
The move is part of the city's efforts to wind down coronavirus disease 2019 (Covid-19) control and response systems amid the easing of pandemic curbs nationwide.
The city is also planning to close the community isolation facility at Sto. Nino Hospital as it only sees a maximum of 10 patients at a given time.
The patients will instead be housed at the central triage at the Baguio Convention Center compound under home isolation guidelines.
Galpo said most of the individuals who test positive for Covid-19 opt for home isolation, which means a low occupancy rate of the isolation facilities.
"Only those whose homes are not favorable to the situation go to the facility," she said.
She said the city also scaled down testing protocols based on the guidelines of the Department of Health (DOH) limiting testing only to symptomatic health workers, senior citizens, and persons with comorbidity.
While the city continues to downgrade operations of Covid-19 facilities, Galpo said they will continue to promote vaccination as the primary preventive measure against the severe effect of the coronavirus on individuals.
Galpo also said the city's two-week Covid-19 growth rate decreased from 44 to 41 percent and its weekly infection rate dropped from 1.60 to 1.20 percent.
She said the city remains to have a high testing rate among residents averaging 108 to 102 tests per day. (PNA)