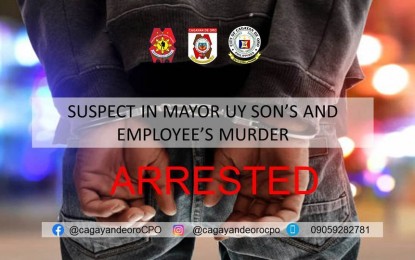 CAGAYAN DE ORO CITY – A former New People's Army (NPA) rebel, main suspect in the killing of the son of this city's mayor and a companion, was arrested over the weekend.
The Cagayan de Oro City Police Office (COCPO) said in a statement Sunday that suspect Edgardo Gaabucayan was served his warrant of arrest on Saturday at Sitio Tapuk-Tapok, Purok 6, Barangay Cabasagan in Lala, Lanao del Norte.
Gaabucayan is tagged as the gunman in the slay of Roland Sherwin Uy, 45, and Samuel Pabalan, an employee of the family, in Barangay Pagatpat on Nov. 11, 2021.
Uy is the son of Mayor Rolando Uy.
"Personal grudge was the main motive in this case and the employee Samuel "Tatay" Pabalan was merely a collateral victim. The arrested suspect is now temporarily detained at Maharlika Detention Facility pending proper disposition of the case," said Maj. Evan Viñas, COCPO spokesperson.
In April, Col. Aaron Mandia, COCPO Director, said the police has filed two counts of murder charges against Gaabucayan before the  CDO Regional Trial Court Branch 38.
Further investigation found out that the suspect was a former member of the NPA's Special Partisan Unit that once operated in Sindangan, Zamboanga Del Norte.
At the time of his slay, the younger Uy was a council member in Barangay Carmen while Pabalan was his caretaker in their gravel and sand business located in Barangay Pagatpat. (PNA)