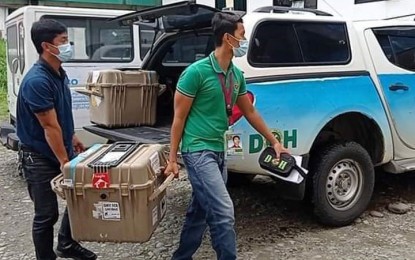 ZAMBOANGA CITY – A total of 353,327 persons have been fully vaccinated since the vaccination program in Region 9 rolled out in March, a health official announced Friday.
Dr. Augusto Manolo Alpichi, Department of Health assistant regional director, said the number of fully vaccinated persons represent 18.7 percent of the eligible population of 1,889,078 to be vaccinated from all priority groups.
Majority of fully vaccinated persons belong to the A3 (persons with comorbidities) group at 176,035.
Others include senior citizens (A2), 98,093; front-line healthcare workers (A1), 49,783; front-liners in essential sector, including uniformed personnel (A4), 20,530; and indigents (A5), 2,184.
The A1 priority group was expanded to include overseas Filipino workers (OFWs) and dependents of front-line health workers. For this group, there are a total of 6,702 vaccinated persons.
Meantime, 422,552 persons have received the first dose, representing 22.36 percent of the eligible population.
Alpichi said the vaccination program would continue until all of the eligible population in the region have been vaccinated.
The region received Thursday some 12,300 doses of both Sinovac (5,280) and Pfizer (7,020) for the city and the provinces of Zamboanga Sibugay and Zamboanga del Sur.
Dr. Anatalio Cagampang, Zamboanga del Sur provincial health officer, said this is the first batch of the mRNA-type vaccine they have received from the DOH regional office.
The Pfizer vaccine would be administered for the first and second doses of persons who belong to the A1, A2, A3 and A5 priority groups. (PNA)