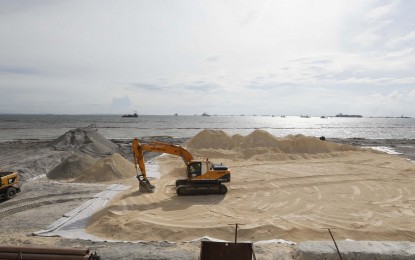 MANILA – President Rodrigo Duterte defended Thursday the efforts of Environment Secretary Roy Cimatu to restore the heavily polluted Manila Bay by pouring crushed dolomite boulders along its shorelines.
In his pre-recorded Talk to the People aired Thursday night, Duterte said the overlaying of the dolomite on the portion of Manila Bay is pleasing to the eye.
Duterte made the remarks, after the Department of Environment and Natural Resources' (DENR) Manila Bay nourishment project using dolomite rocks has been met with criticism.
"Alam mo, maraming nagrereklamo diyan. Ginagawa na nga ni Secretary Cimatu ang lahat para mapaganda 'yung [Manila Bay] (You know, many are complaining there. Secretary Cimatu is doing everything to restore Manila Bay)," he said. "What is beautiful is beautiful, period. Dolomite is beautiful to the eyes, period."
Duterte made the statement, after he asked Cimatu to present the DENR's accomplishments, which included the Manila Bay rehabilitation.
Duterte vouched for Cimatu's competence, saying the Environment chief is the only person who took Manila Bay's environmental problems "by its horns."
"For so many years, you had every chance to do it. Was there anybody willing to take the problem by its horns? Si Cimatu lang. Eh 'di magpasalamat tayo (Cimatu is the only one who did it. So, we should be thankful)," he said.
The DENR undertook the beach nourishment last year to protect the coastal resources in Manila Bay and prevent coastal flooding, erosion, and pollution.
The estimated cost of the entire Manila Bay rehabilitation project is PHP389 million, with PHP28 million of which was allotted for the overlaying of the artificial white sand on a stretch of Manila Bay's shoreline.
Environmentalist groups have slammed the DENR's temporary effort to address Manila Bay's environmental problems, saying the project is a health hazard and a waste of public funds.
Despite this, many have expressed appreciation for the man-made white sand beach.
Apart from the dolomite overlay, the DENR also aims to restore the water quality of Manila Bay by conducting clean-ups of estuaries and setting up sewage treatment plants.
Duterte said the cleaning of estuaries is vital for the total restoration of Manila Bay.
"You begin with the cleaning of the esteros (estuaries). You cooperate with Secretary Cimatu and we have to provide dredging material [or] equipment," he said. "And, if need be, destroy all houses at iyong mga esteros na ninakaw ng subdivisions, buksan, pilitin mo (and the estuaries stolen by subdivisions, open it). But this cannot be done in an ordinary day."
Duterte, however, acknowledged that his suggestion can only be done after his term, and stressed that the use of "martial law powers" is needed to restore Manila Bay to its former glory.
"Alam mo, hindi ako. Hindi na ako magiging presidente (You know, it's not me. I'm no longer the president at that time). But you need another martial law powers for a president someday to do these things," he said. (PNA)