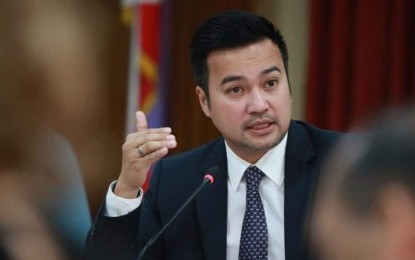 MANILA – Speaker Lord Allan Velasco on Thursday assured there would be no reenacted budget for next year as he vowed a swift and smooth passage of the proposed P5.024-trillion national budget by the end of September.
Velasco made the statement after the House Committee on Appropriations kicked off its deliberations on the last full-year budget to be enacted under the administration of President Rodrigo Duterte.
"We, in the House of Representatives, need to get our act together to ensure swift and smooth passage of the 2022 national budget in order for the government to continue operating and provide much-needed services to the Filipino people as it is expected to," Velasco said.
The House aims to pass its version of the 2022 national budget by Sept. 30, or before Congress suspends session on Oct. 17 to Nov. 15 for the filing of certificates of candidacy for the May 2022 elections.
He said the overall objective is for President Duterte to sign the 2022 General Appropriations Act by December to prevent a reenacted budget that could slow economic growth and hamper the delivery of government services.
The proposed budget for next year is 11.5 percent higher than this year's PHP4.506 trillion.
It is guided by a strategy supported by three main pillars -- Building Resilience amidst the Pandemic; Sustaining the Momentum towards Recovery; and Continuing the Legacy of Infrastructure Development.
About 38.3 percent or PHP1.922 trillion of the budget will go to social services, which will fund health-related services such as continued implementation of the Universal Health Care Act, purchase of Covid-19 vaccines, procurement of personal protective equipment, among others.
Around 29.3 percent or PHP1.474 trillion will go to economic services; 17.2 percent or PHP862.7 billion to general public services; 10.8 percent or PHP541.3 billion to debt burden (including net lending); and 4.5 percent or PHP224.4 billion to defense.
The top 10 with the biggest allocations are the Department of Education with PHP773.6 billion; Department of Public Works and Highways, PHP686.1 billion; Department of the Interior and Local Government, PHP250.4 billion; Department of Health, PHP242 billion; Department of National Defense, PHP222 billion; Department of Social Welfare and Development, PHP191.4 billion; Department of Transportation, PHP151.3 billion; Department of Agriculture, PHP103.5 billion; judiciary, PHP45 billion; and Department of Labor and Employment, PHP44.9 billion.
The House Committee on Appropriations started the budget deliberations with a briefing by the Development Budget Coordination Committee on sources of financing, expenditure levels, and the budget proposals of departments/agencies/corporations, including review of prior years' performance. (PNA)