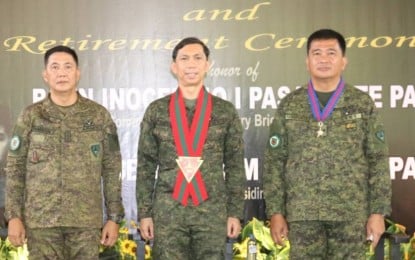 BACOLOD CITY – The new chief of the Philippine Army in Negros Occidental has expressed support for localized peace negotiations with members of the Communist Party of the Philippines-New People's Army (CPP-NPA).
Col. Michael Samson, acting commander of the 303rd Infantry Brigade (Ibde), said on Wednesday through local engagements, those willing to leave the armed revolution will have the opportunity to surrender without misgivings after being fed by propaganda that they will be harmed by government forces.
"If we erase their apprehensions, we can hold a dialogue, and eventually make a settlement. We can talk out the local issues that can be addressed by the local government units and government agencies, then it's better," he told the Philippine News Agency (PNA).
"Let's talk about it, but I encourage it to be done locally. The previous national peace talks failed because they blindly follow the teachings or directives of the CPP's Central Committee," he added.
Samson said they will respond with military action to those who insist on fighting the government through terror and violence.
"If they will continue to do that, we will be forced to make their lives miserable. If it's the only way to force them to abandon the armed struggle," he added.
After serving as deputy commander for more than three years, Samson took over the helm of Camp Major Nelson L. Gerona in Murcia town after Brig. Gen. Inocencio Pasaporte stepped down as brigade chief as he retired from the military service on Tuesday.
The 303IBde oversees the 79th Infantry Battalion (IB) based in Sagay City and the 62IB in Isabela town, both in Negros Occidental and the 94IB with headquarters in Ayungon town, Negros Oriental. (PNA)