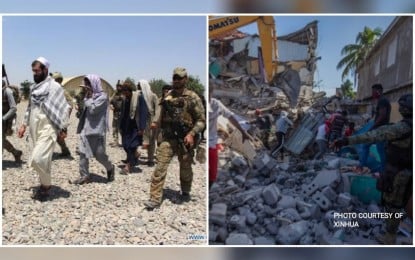 MANILA – The Archdiocese of Manila has issued a prayer for the people of Afghanistan which is currently affected by conflict and political unrest.
In an interview with Radio Veritas on Wednesday, Manila Archbishop Jose Cardinal Advincula said he is praying that both sides will be open to dialogue to prevent the situation from further worsening.
"As Pope Francis called, the entire Archdiocese of Manila joins in praying for our brothers and sisters in Afghanistan, especially our Christian brothers and sisters. May violence be put aside and for all sides to have an open mind to have a dialogue which is the only way of unity and peace. May the safety and rights of every single person be protected," he added.
Advincula also offered prayers for the victims of the 7.2 magnitude earthquake that struck Haiti over the weekend.
Based on the latest data from the United Nations Children's Fund, about 1.2 million people in the central American nation were affected by the Aug. 14 tremor that has so far killed over 1,200 people.
At the same time, he asked God for the clarity of heart and mind of the people who are facing the current crisis.
Many Afghans are scrambling to flee the country after the Islamist militant group Taliban seized control of the capital Kabul on Aug. 15, effectively toppling the United States-backed government led by Afghan president Ashraf Ghani.
The Taliban's return to power came just weeks after the US' decision to formally withdraw its troops from Afghanistan by the end of August.
The US invaded Afghanistan in 2001 and toppled the Taliban, which it accused of coddling Al Qaeda terrorist group leader Osama bin Laden, who is behind the series of attacks on Sept. 11 of the same year. (PNA)