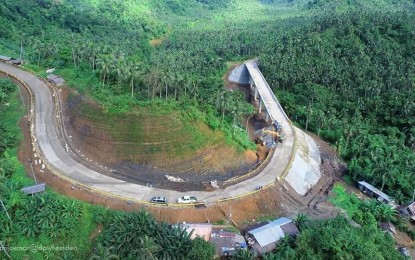 TACLOBAN CITY – The previously isolated town of Silvino Lubos, Northern Samar can now be reached through land travel from the provincial capital with the significant completion of roads and bridges leading to the highland town weighed down for decades by armed conflict.
The town is now accessible through a detour bridge pending the full completion of Suba Bridge, the last of three bridges built since 2011, Office of the Presidential Adviser on the Peace Process (OPAPP) Eastern Visayas program manager Imelda Bonifacio said on Tuesday.
"From Catarman, Silvino Lubos can now be reached in 30 to 45 minutes. Before, the town can be accessed through six hours pump boat from Pambujan town that leaves at midnight. Presently, all roads leading to the town are concreted," Bonifacio said in a phone interview.
Silvino Lubos, a fourth-class town is about 30 kilometers away from Catarman, the provincial capital of Northern Samar. Some people started to access the town by land when detour bridges were built in October last year.
Since 2011, the OPAPP has set aside PHP982.5 million to build three bridges and its road components. These are the Cagpanit-an Bridge, Sulong Bridge, and Suba Bridge. The target completion date of the third bridge is June 2021.
Still ongoing is the Mondragon-Silvino Lubos Road phase 5 funded under the OPAPP Payapa at Masaganang Pamayanan (PAMANA) in the 2018 regular budget.
"It's a 38-kilometer stretch road built in area with forested and mountainous terrain. It was a road opening because when we started, it's like a trail. Now, people can go home even late at night. Motorcycle and cars are roaming around the town. Farm products such as copra and abaca are now being transported by land," Bonifacio added.
The official said the government is also working on linking the town of Silvino-Lubos to rebel-infested towns of Las Navas in Northern Samar and Matuguinao in Samar province.
On its social media page, the local government said the road for peace and development shows Silvino Lubos is "no longer a geographically isolated and disadvantaged area."
"Every resident of Silvino Lubos will truly benefit from this progress. Land transportation is now easily accessible and local economic activities will boom. For tourism, we will soon be recognized as 'Little Baguio' in Northern Samar," the local government stated. (PNA)