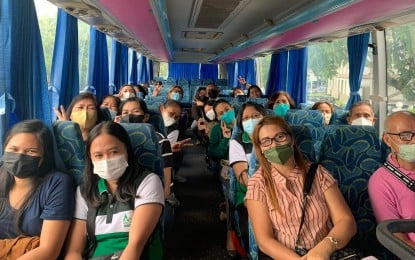 BACOLOD CITY – At least 100 employees of the Negros Occidental provincial government here are being served daily by the "Libreng Sakay" program that enables them to save on transport costs.
Provincial Administrator Rayfrando Diaz II said on Wednesday said that every month, each employee enjoys a savings of about PHP2,000, which they can spend for other needs.
"So far, it's very successful. Our vehicles are fully occupied. The employees have already expressed their gratitude to the provincial government," Diaz told reporters.
Launched last July, the free daily shuttle service is intended for employees living outside this provincial capital, where the main capitol offices are located, to help cushion the effects of higher fuel prices and travel costs.
There are three pick-up areas, which are in the cities of Bago and Silay, and Murcia town.
Daily, the bus and other service vehicles leave the provincial capitol at 6:30 a.m. and proceed to the Silay public plaza to pick up employees from the north; the Department of Education office in Bago City, south; and Murcia Public Plaza, central.
Employees with out-of-town assignments such as the Teresita L. Jalandoni Provincial Hospital in Silay City can also take the shuttle on its way to pick up the employees.
At 7 a.m., the shuttle travels back to the provincial capitol and arrives just before the start of the office hours at 8 a.m., and in the afternoon, leaves at 5:30 p.m. to bring the employees back to the designated stops. (PNA)