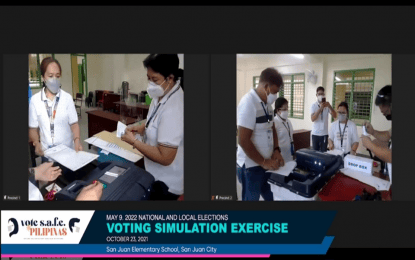 MANILA – Only around 11 percent of the over 4,000 test voters have participated in the voting simulation activity conducted by the Commission on Elections (Comelec) in San Juan City over the weekend.
Comelec spokesperson James Jimenez admitted that it was a low turnout as they are expecting the test voters to actively participate in the event which was part of their preparatory activities for the May 9, 2022 National and Local Elections (NLE).
"We were hoping to have 4,000 actual voters but we only had around 11 percent voter turnout. So that was very low but again this is not expected to be a high attendance event in any case because typically Filipinos have not really bothered to attend simulation exercises," Jimenez said in a virtual forum on Tuesday.
Jimenez said the holding of such activity is significant they were able to roll out on what will happen during the voting process.
"Nevertheless, the simulation exercise was very important because it allowed us to dry run, basically the rolling out for 2022 elections particularly the whole scenario," he added.
Meanwhile, Jimenez said preparations for next year's polls are underway.
"The refurbishment of vote counting machines (VCMs) is continuing and at the same time, we are also undertaking hardware accuracy test. More importantly, we are also in the middle of the local source code review (LSCR) process. Apart from the LSCR we are also in the middle of an international certification process and we hope that will conclude a little later on in the year," he added.
Republic Act 9369 mandates the Comelec to make the source code of the AES technology available and open to any interested party or group for their own review.
The source code is defined as the human-readable instructions that define what the computer equipment will do.
The LSCR started on October 5 and will end on March 31, 2022, at the Diamond Hotel in Manila from 9 a.m. to 5 p.m., Monday to Saturday, except holidays.
At the same time, he said they are looking to release the rules on campaigning for the May 2022 polls this month.
"One last thing we are getting ready to release the campaign guidelines. I guess a lot of people will be in for some scrambling in terms of modifying, how they conduct their campaign because there will be some major changes...we will wait for that to come out hopefully before the end of the month," Jimenez added.
The campaign period for national positions will start on February 8 until May 7, 2022 or 90 days before the polls.
Those running for local positions will have 45-days to conduct campaign activities which will begin on March 25 until May 7, 2022. (PNA)