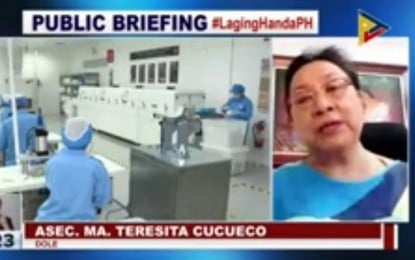 MANILA – Some 4,700 companies in the country have recorded cases of coronavirus disease 2019 (Covid-19) in their workplaces, a labor official said on Thursday.
"From January up to the present, we received reports from 48,413 companies, and out of that number, there are 4,700 companies that have Covid-19 cases," Labor Assistant Secretary Maria Teresita Cucueco said in a Laging Handa briefing.
She added that five sectors have recorded a high number of Covid-19 cases in the workplace.
Citing the agency's Covid Work Accident and Illness Report, Cucueco said these sectors are the service sector, manufacturing, wholesale and retail trade, finance and insurance activities, and construction.
On the other hand, she reported that they have so far inspected 72,000 out of the 75,000 target establishments for the whole year.
"We really need to look at the workplaces so that we can see if they are really complying not only with Covid-19 safety rules. Most of them are compliant with other health and safety standards. So for 72,000 of 75,000 for the first semester, we did that," she added.
Cucueco also reported that they have so far awarded safety seals to 292 companies out of the 897 applications.
"For DOLE, because we have other agencies that provide safety seals. 292 safety seals have been issued from a total of 897 applications. There is a denial immediately because we do not have jurisdiction over other businesses such as (grocery stores)," she said.
The establishments under the DOLE's jurisdiction are the manufacturing, construction, utilities, warehouse, information, and communication companies.
Cucueco added that the regions that have been given the most number of safety seals are National Capital Region, Calabarzon, Central Luzon and Central Visayas.
Those that have been awarded the safety seal are from the manufacturing sector, utilities, construction sites, information and communication companies. (PNA)