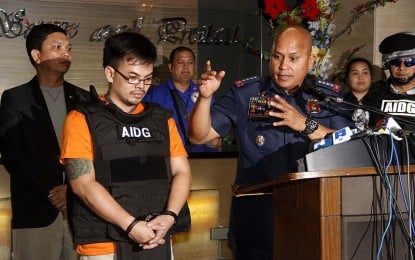 MANILA – Prosecutors have found probable cause to file more drug charges against self-confessed drug lord Kerwin Espinosa and 10 others named by the National Bureau of Investigation (NBI) for their alleged involvement in the illegal trade in Eastern Visayas.
In a 43-page resolution released Thursday, Senior Assistant State Prosecutor Charlie Guhit and Susan Azarcon recommended the filing of drug charges against Espinosa, Marcelo Adorco, Jose Antipuesto, Jose Estrera, Galo Bobares, Ferdinand Rodina, Brian Anthony Zaldivar, Nickjune Canin, Virbeca Diano, Alfred Batistis, and Jose Dumaguit.
Prosecutors said there is no need to present the illegal drugs, citing Espinosa's admissions and participation in the transactions.
"Clearly, due to the complexity of transactions alleged in the instant case where Kerwin would direct his couriers to make deliveries to pushers, users or suppliers, and likewise make payment, whether through text messages or phone calls. or through second or third middlemen, it is sufficient that the communications among and between the respondents are established to prove the illegal trade," they said.
For lack of probable cause, prosecutors also dismissed the complaints against Maba Limbona, Galo Legaspi, Chief Insp. Wilfredo Abordo, Police Officer 3 Dennis Torrefiel, Baysay Custodio, Chief Supt. Asher Dolina, Chief Insp. Eufracio Javines, Capt. Bernie Magamay, Staff Sgt. Eduardo Betuin, Staff Sgt. Roberto Arafol, Sr. Supt. Elizat Egloso, Staff Sgt. Marvin Parac, Victor Espina, Martin Espina, and Marties Ang.
The NBI said Espinosa is involved in the shabu trade in Tacloban City, Ormoc City, Baybay City, Hilongos, San Isidro Villaba, Kananga, and Maasin, all in Leyte, and Naval in Biliran province.
It was allegedly in 2008 when he started his large-scale trade in Cebu City while inside the Bagong Buhay Rehabilitation Center (BBRC) and being tried for drug charges by the Cebu Regional Trial Court Branch 13.
Among his alleged suppliers were slain Cebu drug lord Jeffrey "Jaguar " Diaz.
His father was the late former Albuera, Leyte mayor Rolando Espinosa, whom President Rodrigo Duterte tagged in the illegal drug trade early in his term.
The elder Espinosa died during a police search operation at Baybay City jail in November 2016.
Espinosa is under detention at the NBI headquarters in Manila.
Before his arrest in Abu Dhabi in 2016 while on a visit visa, he was also detained at the New Bilibid Prison in Muntinlupa in 2009, BBRC in 2010, and Ormoc City Jail for illegal possession of firearms and frustrated murder from 2011 to 2013. (PNA)