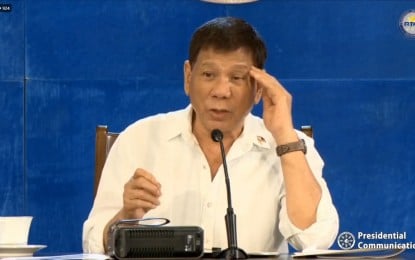 MANILA – President Rodrigo Duterte on Monday night said the deficiencies in the Department of Health (DOH)'s PHP67.32 billion allocation for the country's Covid-19 pandemic response could be attributed to incomplete paperwork.
In his pre-recorded Talk to the People, Duterte said the Commission on Audit (COA)'s findings on the DOH's deficiency in managing the funds doesn't automatically mean that the money had been stolen.
"Kapag ang COA nagsabi sa deficiency, 'di mo masabi na ninakaw ang pera (When COA says there's a deficiency, does not mean the money was stolen), deficiency is really in producing the necessary documents," he said.
Duterte hit the COA for flagging the agencies involved in the Covid-19 pandemic response.
"You make a report, do not flag. Do not publish it because it will condemn the agency or the person that you are flagging," he said.
He noted the country has been doing a lot in the middle of a pandemic that some paperwork might have left behind.
"May mga project tayo, malaking project, so ngayon mayroong talagang mga papel-papel na hindi masyadong kumpleto sa paperwork (We have a project, we have a huge project so there are some paper works that are incomplete)," he said.
Preliminary audit reports when released to media, he said, "becomes the gospel truth."
Duterte said the COA should not conduct an audit while the program is still running.
"You know papers, bureaucracy takes a very long time sometimes the documents are deficient," he said. "If COA is the one preparing the papers and we are just implementing eh diy madali (it would be easy)."
He said is not fair for the people who are working and toiling to fulfill their responsibilities to flag them when "the papers that in their custody are really sufficient and deficient."
"Huwag ka munang mag-audit hanggang hindi pa natapos ang trabaho ko (Don't audit until my work is done)," he said. "And yet you know when you flag, there is already a taint of corruption by perception."
The President said COA flagging an agency is sometimes a "conundrum."
"You know this Covid-19 will never be won by the way you are also behaving. You know that this is an emergency. It is a matter of life or death so you have to understand and give it a little elbow room to move," he added.
Duterte said he ordered the agencies working related to pandemic response to loan money if they are lacking, just to provide the needs of the Filipinos in this crisis period.
He assured that he would not allow anyone from his Cabinet members to steal money from the taxpayers. (PNA)