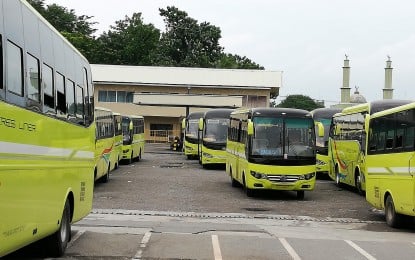 BACOLOD CITY – The Negros Occidental provincial government will still not allow the resumption of bus trips from the neighboring Negros Oriental, which has been placed under Alert Level 4 by the Inter-Agency Task Force for the Management of Emerging Infectious Diseases (IATF-EID).
Provincial Administrator Rayfrando Diaz II said on Tuesday allowing unimpeded or unchecked travel between the two provinces is counter-productive to the campaign of Negros Occidental against the transmission of coronavirus disease 2019 (Covid-19).
"Governor (Eugenio Jose Lacson) met with Provincial Incident Management Team. Our assessment is that, there's more risk on the part of Negros Occidental in opening up the lanes of transportation [from] Negros Oriental," Diaz said in an interview with Capitol reporters.
Being under Alert Level 4, Negros Oriental is considered high-risk while Negros Occidental, which is under Alert Level 2 is now low-risk, he added.
Areas under Alert Level 4, the second-highest alert level, show high and increasing case counts with total Covid-19 bed and intensive care beds at increasing utilization rates.
Also, persons in these areas below 18 years old and above 65 years old, those with immunodeficiencies, comorbidities, or other health risks, and pregnant women are not allowed to leave their homes except for obtaining essential goods and services and working in permitted industries and offices.
Under the current travel restrictions, Vallacar Transit Inc.-owned Ceres buses are not allowed to enter Negros Occidental, but those coming from the other island can enter the province on board a private vehicle as long as passengers can present an S-PaSS (Safe, Swift and Smart Passage) along with a negative reverse transcription-polymerase chain reaction (RT-PCR) test result or QR-coded vaccination identification (ID) card.
"We hope soon the situation will improve in Negros Oriental. Again, once it's safe, we will resume normal transportation within the island," Diaz said.