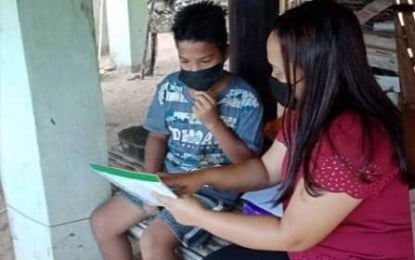 SAN JOSE DE BUENAVISTA, Antique – The Pantawid Pamilyang Pilipino Program (4Ps) in Antique will request the Department of Labor and Employment (DOLE) to rehire para-teachers to assist learners coming from poor families in the province.
"The 4Ps beneficiaries received a great help from the para-teachers last school year and so we would like to request if DOLE could again provide such assistance," said Antique's 4Ps provincial link Jeffrey Gabucay in an interview Tuesday.
Through its Government Internship Program (GIP), DOLE hired 728 para-teachers last school year who assisted students of the Department of Education (DepEd) Schools Division of Antique.
Para-teachers are education graduates not yet hired as regular teachers.
They were allowed to work by conducting house-to-house tutorial lessons among students who have difficulty in answering their modules.
"We expect that without the face-to-face classroom instruction this coming school year, the 4Ps beneficiaries who will be in school will encounter similar hardship considering that some parents are not able to teach them," Gabucay said.
He said that some parents, because of their low educational attainment, could not assist their children in answering their modules.
Most of the 4Ps students will be opting to have modular classes because of their problem of having no computer and no internet connectivity especially those living in remote areas, Gabucay added.
This school year, some 47,758 learners from kindergarten to secondary schools are 4Ps members.
Gabucay also encouraged 4Ps household beneficiaries to enroll their school-age children in the 2021-2022 school year which is ongoing. (PNA)