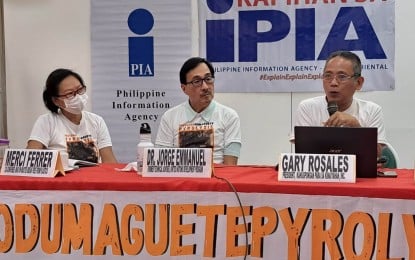 DUMAGUETE CITY – Environmental organizations on Thursday called on the city government here to stop using pyrolysis/gasification technology that converts plastic wastes to by-products as it is harmful to humans and the surroundings.
At a Kapihan sa PIA forum, Merci Ferrer, co-convenor of War on Waste Break Free from Plastics, said environmental advocacy groups in the province are pushing to stop pyrolysis technology being used by the city at its Central Materials Recovery Facility (MRF) in Barangay Candauay.
Pyrolysis is a common technique used to convert plastic waste into energy, in the form of solid, liquid and gaseous fuels. It is the thermal degradation of plastic waste at different temperatures.
"Most of the materials being burned by pyrolysis are plastics, and plastics emit highly toxic dioxins," Ferrer said. "It also defeats the purpose for people to keep the materials that are recyclable or residuals that can still be sold."
Ferrer said the best solution to trash disposal woes is for the city government to strengthen its garbage segregation policy, which could cut down the volume of waste brought to MRF.
She said they initially introduced the Zero Waste Management program in the villages of Looc, Bantayan, Piapi, Banilad and Calindagan.
However, she said only a few clusters in each barangay have been actively participating in the project.
Dr. Jorge Emmanuel, former Chief Technical Adviser for the United Nations Development Program, said the process of pyrolysis/gasification technology which uses heat to break down organic wastes are toxic and can cause health issues in people exposed to them.
"These are not just transmitted through the air but also in the food we consume," he said.
Emmanuel said the process is also costly.
He also cautioned the city government that it may not be able to get an environment-friendly certification from the International Zero Waste Alliance because it uses burning technology to dispose of waste.
"Many of the people in the International Zero Waste Alliance we know would never accredit, would never certify a city that is burning or using an incinerator or a pyrolysis-gasification unit to ever become a zero-waste city," he added.
Gary Rosales, a member of three organizations working on zero-waste projects, said they would push for a stronger commitment of the barangays to help implement efficient garbage segregation.
The facility was established sometime in mid-2021 following the closure of the city's outlawed open pit dumpsite as mandated by Republic Act 9003 or the Ecological Solid Waste Management Act of 2000. (PNA)