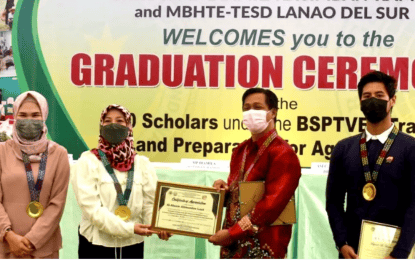 MANILA – The Office of Bangsamoro Transition Authority (BTA) Member of Parliament (MP) Diamila Disimban-Ramos led the graduation ceremony of the 50 scholars who have completed the 2021 Bangsamoro Scholarship Program for Technical Vocational Education Training on Land Preparation for Agricultural Crop Production in Marawi City last October 25.
In a news release on Thursday, Ramos said the program, in partnership with the Ministry of Basic, Higher and Technical Education-Technical Education and Skills Development (MBHTE-TESD) in Lanao del Sur, ran from September 1 to 28.
The activity is part of the efforts of the Bangsamoro government to empower the beneficiaries from selected out-of-school youth, internally displaced persons (IDPs), single parents, Ulama, and Toril learners, to advance livelihood and lifelong learning opportunities for them.
The scholars went through a series of lectures and hands-on learnings such as identifying tools and personal protective equipment in land preparation; manual handlings such as arranging of pre-planting treatments, their purpose, and method of application; and, occupation health safety guidelines, procedures, and principles.
They also went through Values Transformation Training and Basic Entrepreneurship Skills Training where they are taught entrepreneurship skills.
Moved by the inspiring stories of the scholars, MP Ramos extended her appreciation to the MBHTE-TESD Lanao del Sur and other program partners for their invaluable support and contribution to the success of the two-week training.
MP Ramos congratulated the scholars for their sacrifices and perseverance to finish the training.
"Lubos akong nagagalak ngayon na natapos niyo na ang training na ito. Hangang-hanga po ako sa ipinakita niyong dedikasyon at sakripisyo para matuto. Nawa'y magamit niyo lahat ng natutunan niyo sa hinaharap at mai-share niyo rin sa inyong mga kani-kanyang komunidad (I am very happy that you have completed your training. I admire your dedication and sacrifices so you can learn. I hope you can use your learnings in the future and share them with your community)," she said.
"We have also interviewed some of you and the ideas, suggestions, and recommendations arising from our consultations will be studied by our office so we can translate it into policy legislation that will address your needs," she added.
Ramos assured that her office and the Bangsamoro government are always open to the farmers and vulnerable sectors.
"We will continue to work hard to achieve our goal that no Bangsamoro farmer should be left behind because I believe that their interests and well-being must always be kept at the forefront," she said.
"In Shaa Allah, my office and the Bangsamoro Government will be an instrument in giving people assistance and opportunities to boost agriculture and the quality of life of every Bangsamoro," she added.
Meanwhile, MBHTE-TESD Lanao del Sur Provincial Director Aleida Nameerah Mangata thanked Ramos and the dedication of her staff who ensured the scholars finish their training.
She added that this initiative gave hope to Bangsamoro constituents and allowed them to have skilled workers who will improve the quality of life, promote sustainable development, and alleviate the Bangsamoro region from poverty.
Representing guest-of-honor Cooperative Development Authority (CDA) Assistant Secretary Pendatun Disimban, his chief-of-staff Mr. Mujahid Al-Hussien Disimban congratulated the completers for finishing the skills training and shared that he was inspired by them because what they have achieved is a manifestation that acquiring knowledge has no limitations.
He also commended the implementing agencies and their partners for successfully conducting the training.
"Maraming Salamat po kay MP Ramos at sa mga staff niyo po dahil hindi niyo po kami iniwan mula sa simula hanggang sa huli. Binigyan niyo kami ng pag-asa (Thank you MP Ramos and your staff because you were with us until the end. You gave us hope)," said Mr. Ulomoden Mamoransing, a scholar from the Ulama Sector.
"Hindi namin inalintana yung init ng araw, kahit inaabutan pa kami ng ulan. (The heat of the sun and the rains did not bother us). The most important for us is the friendship that we have built," Ms. Hosniyah Abaton shared about how the training made them part of a new-found family.
In his closing remarks, President of Muassasatul Asdiqah Foundation Aleem Alimondas Laut noted the smooth facilitation of the entire training and for producing qualified and competent completers of the program. He emphasized that indeed the Bangsamoro government does not forsake the well-being of its constituents.
Meanwhile, the completers, trainers, and partner agencies were given certificates of participation and appreciation by the office of Ramos.
Aside from the tool kits that they will receive after the procurement process, the completers received on their graduation day their allowances as part of the Training Support Fund released by the MBHTE-TESD Lanao del Sur. (PR)