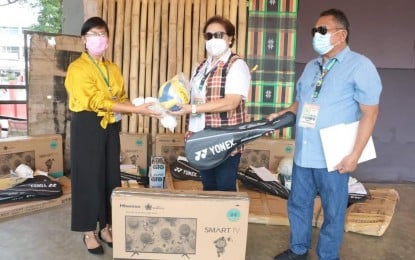 SAN JOSE DE BUENAVISTA, Antique – Five schools that will host the provincial government's teen centers received various sports equipment in a turnover ceremony led by Governor Rhodora Cadiao on Wednesday.
Antique Provincial Population Officer Primo Ogatis, Jr, in an interview Wednesday, said each school received PHP35,000 worth of equipment.
"Each of the schools was given sports equipment composed of volleyball set with net and ball, badminton rackets with the shuttlecock, scrabble board games, chessboard, and 32" LCD television with stand," Ogatis said.
The recipients were the Concepcion L. Cazeñas Memorial School in Tobias Fornier, Governor Julian F. Pacificador National School in Hamtic, Valderrama National School in Valderrama, Libertad National Vocational School in Libertad, and Sebaste High School in Sebaste.
The teen centers to be inaugurated next month will serve as a venue where students could spend their vacant hours in school in more productive ways like sports, film shows, and reading information materials on Adolescent Health and Youth Development Program (AHYDP).
The AHYDP is being implemented to raise awareness of students about teenage pregnancy, protection from human immunodeficiency virus (HIV), and other psycho-social pressures, among others.
"The five teen centers were supposed to be established and inaugurated in 2020 yet, but because of the coronavirus disease 2019 (Covid-19) it was delayed," he said.
Since 2002, he said they have been establishing teen centers in the various schools in the province through a Memorandum of Understanding (MOU) for schools to allocate a space or classroom.
"Since 2002 to 2019, we have already established 18 teen centers," he said.
The centers provided appropriate information and a venue for students to discuss problems with their peer educators.
The additional teen centers will bring to 23 the total centers catering to adolescents in the province.
"The five teen centers will be established in preparation already for the eventual face-to-face classes of high school students," he said.