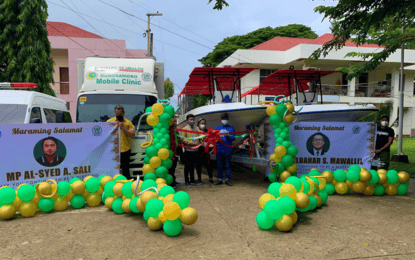 COTABATO CITY – Two hospitals in Tawi-Tawi are recipients of sea and land ambulances to boost their health emergency response in the island province which is a part of the Bangsamoro Autonomous Region Muslim Mindanao (BARMM).
Dr. Bashary Latiph, Ministry of Health (MOH)-BARMM minister, said Friday the beneficiaries of the ambulances are the Datu Halun Sakilan Memorial Hospital (DHSMH) in the capital town of Bongao, and the Alawadin T. Bandon, Sr. Municipal Hospital (ABSMH) in Sitangkai town.
"The delivery of the health support units was realized through the Transitional Development Impact Fund (TDIF), a lead project of the Bangsamoro Transition Authority (BTA) that assists identified beneficiaries," Latiph told reporters.
The TDIF projects in Tawi-Tawi were allotted to BTA Members of Parliament (MPs) Amilbahar Mawallil and Al-Syed Sali, who are from the island province.
A sea ambulance costs PHP3 million, while a land ambulance is worth PHP2.5 million, Latiph said.
In a statement, Dr. Sangkula Laja, chief of DHSMH, said Mawallil, backed by Sali, sponsored the procurement of the hospital's support equipment comprising sea, land, and mobile X-ray ambulances.
Laja also identified the ABSMH as a recipient of a sea ambulance and PHP500,000 worth of assorted medicine from the same project.
"We wish to thank and express our gratitude to MPs Mawallil and Sali and the BARMM government for their generosity, and continuous support to the health care system our province. We also hope in the future they will give more," he added.
Tawi-Tawi is in the southernmost part of the country, sharing sea borders with the neighboring countries of Malaysia and Indonesia. (PNA)