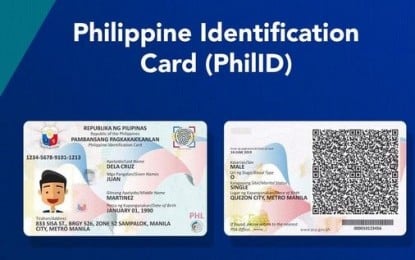 MANILA – The Philippine Statistics Authority (PSA) called on government line agencies and other private financial institutions for the recognition of Philippine Identification (PhilID) or the national ID card as sufficient proof of identity of their clients.
At the Laging Handa public briefing on Wednesday, PSA Undersecretary Rosalinda Bautista said the digitally working PhilID is embedded with "powerful authentication" features in the absence of the registrant's handwritten signature on the physical card.
She said identity verification can be done both offline and online using the PhilID card.
"We already issued an advisory for the recognition of the national ID as a sufficient proof of identity without the need to present other IDs)," she said, reacting to those claims that some banking institutions do not recognize PhilIDs in financial transactions.
"Aside from that, we are conducting webinars with the financial institutions and other government institutions on the acceptance without looking for the handwritten signature because this is a digital ID with strong authentication," she added.
These webinars include the explanation of covert and overt features of the PhilSys, she said, to assure the PSA's relying partners of the authenticity of the PhilIDs.
Bautista noted that the PSA is already coordinating with more establishments to include the PhilID to their list of recognized IDs for legal transactions.
"Many have already responded to our request to recognize the PhilID," she added.
The PSA earlier explained the absence of the registrant's handwritten signature on the physical ID card is part of PhilSys' security features that further prevent "inefficiency and fraud" services.
It added the PhilID design "promotes greater security in transactions through stronger methods of verification and lower risks of forgery."
Signed into law by President Rodrigo Duterte in August 2018, Republic Act 11055, or the Philippine Identification System Act, aims to establish a single national ID for all Filipinos and resident aliens.
Under the law, the PhilID shall serve as the official government-issued identification document of cardholders in dealing with all national government agencies (NGAs), local government units (LGUs), government-owned or controlled corporations (GOCCs), government financial institutions (GFIs), State Universities and Colleges (SUCs), and all private sector entities.
Refusal to accept, acknowledge and/or recognize the PhilID card as the only official identification of the holder/possessor "without just and sufficient cause" is punishable by the law.
The penalized person or entity shall pay a fine amounting to PHP500,000.
If the violation is committed by the government official or employee, the penalty shall include perpetual absolute disqualification from holding any public office or employment in the government, including any GOCCs, and their subsidiaries.
The national ID shall be a valid proof of identity that shall be a means of simplifying public and private transactions, enrollment in schools, and opening of bank accounts.
It will also boost efficiency, especially in dealing with government services where people will only need to present one ID during transactions. (PNA)