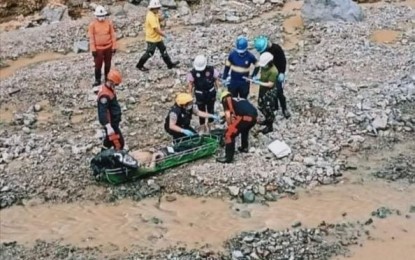 BAGUIO CITY – Rescuers have found Friday morning the body of a female who was buried in a landslide at Barangay Loacan, Itogon, Benguet.
In his report to the Police Regional Office-Cordillera, Maj. Dexter Simon, Itogon chief of police, said the body was found around 8:05 a.m. on the fourth day of rescue and retrieval operations.
The body was identified as that of Morina Simeon Lintan, 57. She, along with her live-in partner Nestor Talangcag, 54, hid behind a boulder at the river before being covered by mud during the landslide Tuesday.
Talangcag's remains were retrieved around 2 p.m. on August 19.
Dante Tomi, Talangcag's older brother, said the three of them and the couple's son were gold panning on the river when the soil eroded from the mountain.
He and the couple's son were able to run unhurt.
Loacan barangay chairperson Andres Cuyan said Lintan's body would be brought home to Tublay town where her family resides while the body of Talangcag is at his house in Barangay Loacan. (PNA)