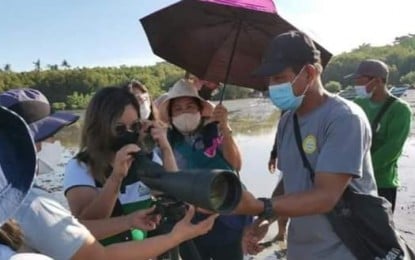 BACOLOD CITY – Coinciding with the fifth anniversary of the Negros Occidental Coastal Wetlands Conservation Area (NOCWCA) on Wednesday, the provincial government here received honors for its community-based approach in managing coastal resources across 10 localities in the southern part of the province.
The Negros Occidental Coastal Wetlands Area Management Alliance (NOCWAMA), with its entry titled "Network of Alliances for Coastal Wetlands Conservation", was named one of the Top 10 winners in this year's Galing Pook Awards, which recognizes innovative practices by local government units (LGUs).
"Thank you for this recognition. It is interesting and significant to note that today also marks the fifth year of the declaration of the NOCWCA as a Ramsar site. I share this award with all the LGU-members of the NOCWAMA," Governor Eugenio Jose Lacson said in his message during the virtual awarding rites held on Wednesday afternoon.
"The concern for our environment is a problem of global proportion, but reducing its adverse impact must be done locally. This honor will definitely inspire and encourage us together with all the stakeholders to do better and do more in terms of environmental governance," he added.
The NOCWAMA is comprised of local governments, coastal villages, people's organizations, fisheries, and aquatic management resources councils, and community-based environment law enforcement units in the cities of Bago, Himamaylan, and Kabankalan as well as in the municipalities of Pulupandan, Valladolid, San Enrique, Pontevedra, Hinigaran, Binalbagan, and Ilog.
Located across these localities is the NOCWCA, a contiguous wetlands area with a coastline of 109.52 kilometers, spanning 52 coastal barangays.
On Oct. 20, 2016, the NOCWCA was declared as the seventh Ramsar site (wetland of international importance) in the Philippines.
"Among the Ramsar sites in the Philippines, this is the only [one] that is locally-managed with network of alliances and local conservation areas. The biggest impact is on the community that live in this area. They have added income because of the conservation efforts. There has also been a reduction in the cutting of mangroves," Lacson said.
According to the Provincial Environment Management Office, the NOCWCA serves as a habitat of globally-threatened species, extensive mangroves, and mudflats that serve as feeding grounds of thousands of migratory birds.
The area's high biodiversity also supports the livelihood of coastal communities and serves as a major food source for Negros Occidental.
Some 80 bird species were recorded in the NOCWCA, including the globally endangered Great knot, Far Eastern curlew, and Nordmann's greenshank; the threatened species such as Irrawaddy dolphin and three species of marine turtles; the critically-endangered Hawksbill turtle; and the endangered Green turtle and Olive ridley turtle.
The 2021 Galing Pook Awards is presented by the Galing Pook Foundation, Department of the Interior and Local Government-Local Government Academy, and SM Prime Holdings. (PNA)