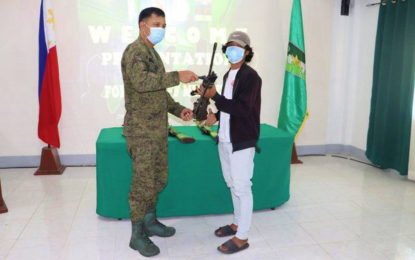 CAMP SIONGCO, Maguindanao – Four more members of the Bangsamoro Islamic Freedom Fighters (BIFF) have surrendered to be with their families anew, the military here announced Thursday.
Maj. Gen. Juvymax Uy, Philippine Army's 6th Infantry Division commander, said the surrenderers, whom he declined to identify for security reasons, belonged to the BIFF – Kagui Karialan faction operating in the border of Maguindanao and Sultan Kudarat provinces.
"They yielded on Wednesday afternoon through the efforts of the Army's 92nd Infantry Battalion and local leaders in Datu Hoffer Ampatuan town in Maguindanao," he said.
Uy said the four will be reintroduced to mainstream society through the various agencies and programs of the government.
During a ceremony held at the headquarters of the 1st Brigade Combat Team in Shariff Aguak town, the surrenderers turned over to Brig. Gen. Ignatius Patrimonio, the 1Bde commander, four assorted high-powered assault rifles, one Ultimax light machinegun, and ammunition.
A certain alias Abdul, one of the surrenderers, said all of them have planned to surrender long before as they were all longing for home.
"We have a lot of catching up to do with our families. We have not seen them for the past several years," Abdul said as he vowed never to return to a life of lawlessness.
Since January this year, more than 120 members of the BIFF have surrendered to different units of the 6ID in the provinces of Maguindanao, North Cotabato, and Sultan Kudarat. (PNA)