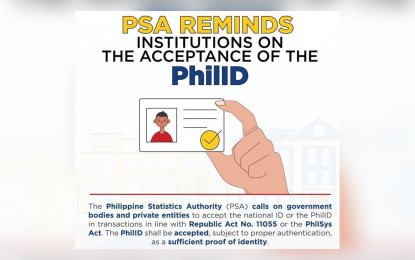 DAVAO CITY – The unauthorized issuance of the Philippine Identification (PhilID) card and use of fake versions will not go unpunished.
A penalty of PHP1 million to PHP3 million and imprisonment from three to six years will be meted out under the Implementing Rules and Regulations of the Philippine Identification System (PhilSys) Act.
The Philippine Statistics Authority (PSA) issued the warning yet again in a recent advisory after receiving information on the proliferation of Facebook accounts and websites that claim they are legitimate online platforms of the PSA and PhilSys.
The fake sites and websites started to spread when PSA rolled out the Step 1 online registration in April 30.
"We are warning the public to be vigilant and immediately report to PSA these groups to avoid being scammed and illegal use of your personal information," the PSA posted on September 1.
It also advised the public to call PhilSys hotline number 1388 in case they come across fraudulent persons or groups.
PhilSys registration is free and does not charge assistance fee or delivery fee of the PhilID card.
The Philippine Post will deliver the physical cards to the registered address.
The PSA advised that only the official website of PhilSys (philsys.gov,ph) Facebook account (www.facebook.com/PSAPhilSysOfficial) are authorized to release information.
Signed into law by President Rodrigo R. Duterte in August 2018, Republic Act 11055, or the Philippine Identification System Act, aims to establish a single national ID for all Filipinos and resident aliens.
The national ID shall be a valid proof of identity that shall be a means of simplifying public and private transactions, enrollment in schools, and the opening of bank accounts.
It also seeks to boost efficiency, especially in dealing with government services where people will only need to present one ID during transactions. (PNA)