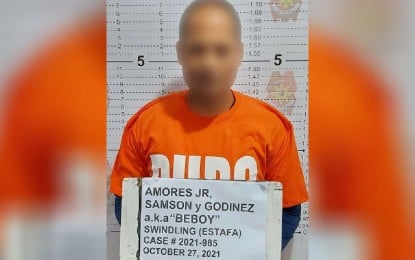 BUTUAN CITY – The Butuan City Police has arrested a couple involved in an illegal investment scheme who are also linked to the KAPA Community Ministry International (KAPA), authorities said Thursday.
Maj. Dorothy Tumulak, the Public Information Officer of the Police Regional Office (PRO) 13 (Caraga), in an interview with Philippine News Agency on Thursday morning, identified the suspects as Samson Amores alias Beboy, 53, and Analita Amores, 46.
They were arrested by Butuan City Police Station 1 (BCPO 1) personnel at their residence in Princess Homes 1, Barangay Villa Kananga here.
The two were subject to an arrest warrant dated October 22, 2021, issued by the Regional Trial Court Branch 2 in this city.
"They are facing criminal charges for the violation of Article 315 of the Revised Penal Code for Estafa as amended by Presidential Decree (PD) No. 1689," Tumulak said.
PD 1689 increased the penalty for certain forms of swindling or estafa.
"The couple is now detained at the BCPO 1. No bail bond is recommended in the criminal case they are facing," Tumulak said.
On Wednesday afternoon, PRO-13 Director Brig. Gen. Romeo Caramat Jr., in a statement, commended the personnel of BCPO 1 for the arrest of the couple.
"The two are connected to KAPA which was involved in a Ponzi scheme, an investment program that offers impossible high returns and pays investors using the money contributed by later investors that victimized millions of Filipinos," Caramat said.
The founder of KAPA, Pastor Joel Apolinario was arrested with 25 of his members last July 21, 2020, in Lingig, Surigao del Sur.
Caramat also reminded the residents in the region not to be enticed by any investment scheme that promises high returns.
"Remember that such promise of high returns has the big possibility of being a scam," Caramat said. (PNA)