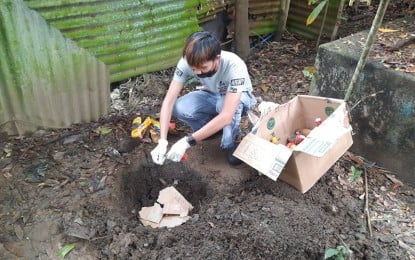 SAN JOSE DE BUENAVISTA, Antique – The Antique Provincial Veterinary (ProVet) office is urging consumers not to patronize pork-based products from areas in the country with African swine fever (ASF) cases.
ProVet Public Health Division head Dr. Rafael Marco Ardamil said in an interview Friday that consumers patronizing pork-based products from ASF-hit areas as there are still stores selling canned goods and other processed food laced with pork.
"Only last October 18, we were again able to confiscate pork-based products manufactured in Laguna," he said.
The ProVet staff together with the Municipal Agriculture Officer (MAO) accompanied by police personnel confiscated more than 100 cans of pork and beans, pork liver spread, and sauce from a mini-grocery store in Hamtic.
The sale of pork-based products is prohibited under Provincial Ordinance 2020-242 that banned the transport and sale of pork-based products from Luzon, Mindanao, and other ASF-affected areas in the country.
"The confiscation in Hamtic came after we were also able to confiscate 69 canned pork sausage in a mini-grocery store in San Jose de Buenavista on September 29," Ardamil added.
When they started monitoring in May 2021, the authorities already seized pork-based products from seven retail stores, one restaurant, and an itinerant vendor in the province. They were only reprimanded.
"The ProVet will be filing the appropriate charges in the court for violation of the Provincial Ordinance second time the retailers would be found selling the prohibited food items," he said. (PNA)