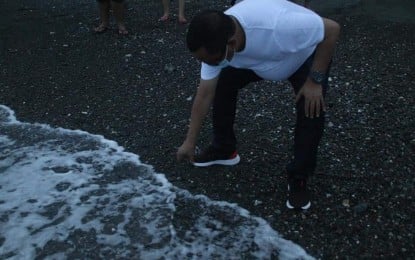 SAN JOSE DE BUENAVISTA, Antique – The Municipal Environment and Natural Resources Office (MENRO) of this capital town of Antique is urging the Sangguniang Bayan to pass an ordinance to protect the nesting ground of the green sea turtle along their coastal area.
Madelyn Pagunsan, San Jose de Buenavista MENRO, said in an interview Wednesday a local ordinance is necessary so that the nesting area in Barangay Funda-Dalipe would not be disturbed.
"We are already able to release 326 hatchlings of the green sea turtle since August 28 until October 14," she said.
The hatchlings, which they discovered along the shorelines, are believed to have been hatched by the same green sea turtle that kept on coming back because of the abundant seagrass in the area, Pagunsan added.
"By nature, the green sea turtle also keeps on coming back in the area where she previously laid eggs," she said.
She said the green sea turtle, however, is also sensitive that it will return to the sea once there is a sound disturbance in the area like the barking of the dog.
"Environmental cleanliness is also necessary for the green sea turtle to thrive that we would like to encourage the residents along the coastal area to strictly observe it," Pagunsan added.
She said if a law is passed protecting the nesting area of those endangered species which will make the turtle and her hatchlings keep on coming back, their presence might even become a tourist attraction.
San Jose de Buenavista Mayor Elmer Untaran, during a press conference on October 19, said the awareness of residents of Barangay Funda-Dalipe on the protection of turtles is already high.
"The residents now know that it is prohibited to catch, culture or slaughter the turtle," he said. (PNA)